On Tuesday night, Red Sox legend David Ortiz became the 5th player in the organizations history to be elected to the Baseball Hall of Fame in his first year on the ballot.
3 World Series championships and a World Series MVP.

Boston legend. #HOF2022 pic.twitter.com/dYD8tEF3GS

— MLB (@MLB) January 25, 2022
And who else but long time friend, teammate, and fellow Hall of Famer Pedro Martinez to be right by his side when he receives the call with the great news.
Cooperstown is calling! pic.twitter.com/de1K5bHxlZ

— Red Sox (@RedSox) January 25, 2022
Big Papi made his mark on the game. Not only with the Red Sox franchise, but the entire city of Boston. He will go down as one of the most universally liked baseball players ever, and one of, if not the clutchest postseason hitters we have ever seen play the game of baseball. Oh, and his resume isn't too bad either:
✅ All-time DH leader in HR and RBI
✅ 10x All-Star
✅ 3x World Series Champion
✅ 2013 World Series MVP
✅ 7x Silver Slugger Award Winner
✅ Holds @RedSox single-season HR record (54)
✅ Hall of Famer

Congrats, Big Papi! pic.twitter.com/TU4cYkd8Mn

— MLB (@MLB) January 25, 2022
Of course, this is an amazing honor. Although, there are a lot of skeptics out there that believe other players should have been elected into this year's Hall of Fame class, and rightfully so. There is no question that Big Papi deserves to be in the Hall of Fame, but he would have had his chance next year, and the year after that.
Anyway, this is not the real issue here. What we need to focus on is the fact that Barry Bonds and Roger Clemens went ten full years without making the Hall of Fame. Ortiz making it on the first ballot has nothing to do with the BBWAA constantly undermining the talent and qualifications of studs like Bonds and Clemens to make it for an entire decade.
Not only that, but some of the ballots submitted were just utterly despicable and truthfully a waste. Here is the official final count of votes submitted by members of the BBWAA:
*Note that players with less than 5 percent of the vote will no longer be on the ballot in future ballots (Not listed: Prince Fielder, Jonathan Papelbon, A.J. Pierzynski)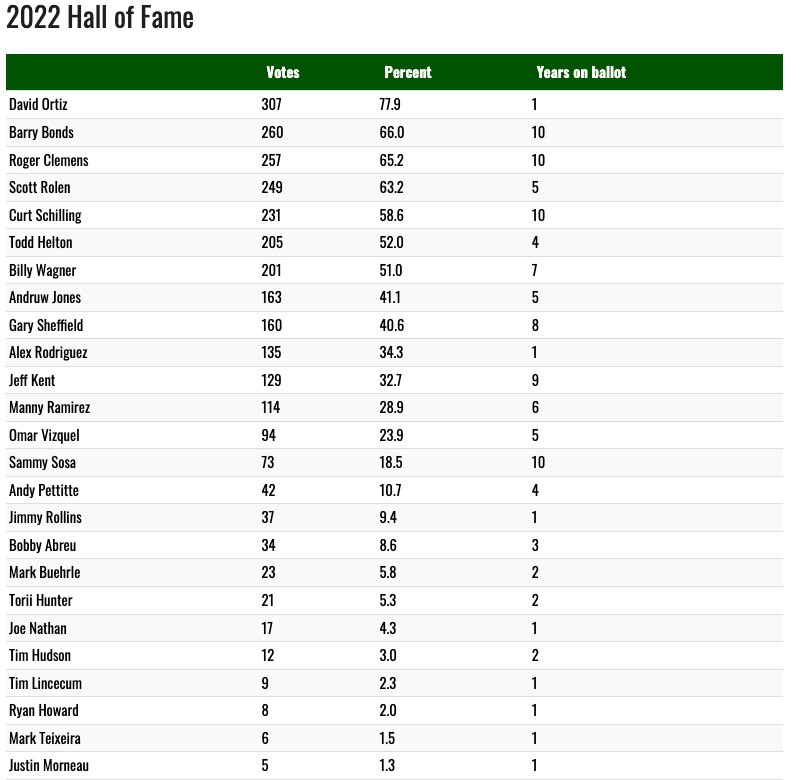 There were SIX empty ballots submitted this year, SIX. I mean, what are we doing here? It is an incredible honor to be able to vote for players deserving of this amazing accomplishment, and you just go and waste that opportunity? Out of all the players above, you're telling me that there is not one that deserves a single vote? Please. And this goes without mentioning the several ballots that leave out the obvious choices while only voting for one player like Jeff Kent, no offense to Jeff Kent.
The argument against Bonds and Clemens is obvious, the issue of steroid use. These were the poster boys for the era, but that doesn't mean other players weren't using and just didn't get caught or frowned upon as much as they did. Besides, both of these players had substantial success even before this point in their careers, and it goes without question that they deserved to be in the Hall of Fame. They are two of the best to ever do it in their respected positions.
Imagine the pitcher who ranks third in all-time strike outs and has won seven Cy Young awards, and the seven-time MVP winner who ranks first all-time in home runs hit don't make the hall of fame. Well, that is the reality we are in.
Again, a huge congratulations to David Ortiz on becoming the well-deserved Hall of Famer he is. Unfortunately, it has to be in the midst of one of the most controversial topics in baseball for the past decade.