1 – Alabama
Alabama has never missed the College Football Playoff since it's first year in 2014. They have made it to the National Championship four years in a row, winning it twice. This Alabama team is no different. They have three wide receivers who will most likely be first round picks when they enter the 2020 NFL draft. Tua Tagovailoa is one of the best quarterbacks in the country and is in contention for the first overall pick next year. Star RB Najee Harris is averaging six yards per carry in addition to his four total touchdowns this season. The defense is a powerhouse as well, forcing 11 turnovers in 5 games. I wouldn't be surprised if this team ran the table even with a difficult schedule going to Texas A&M and Auburn as well as a matchup at home against LSU. They should be in the playoff and it would be a surprise if they aren't.
2 – Clemson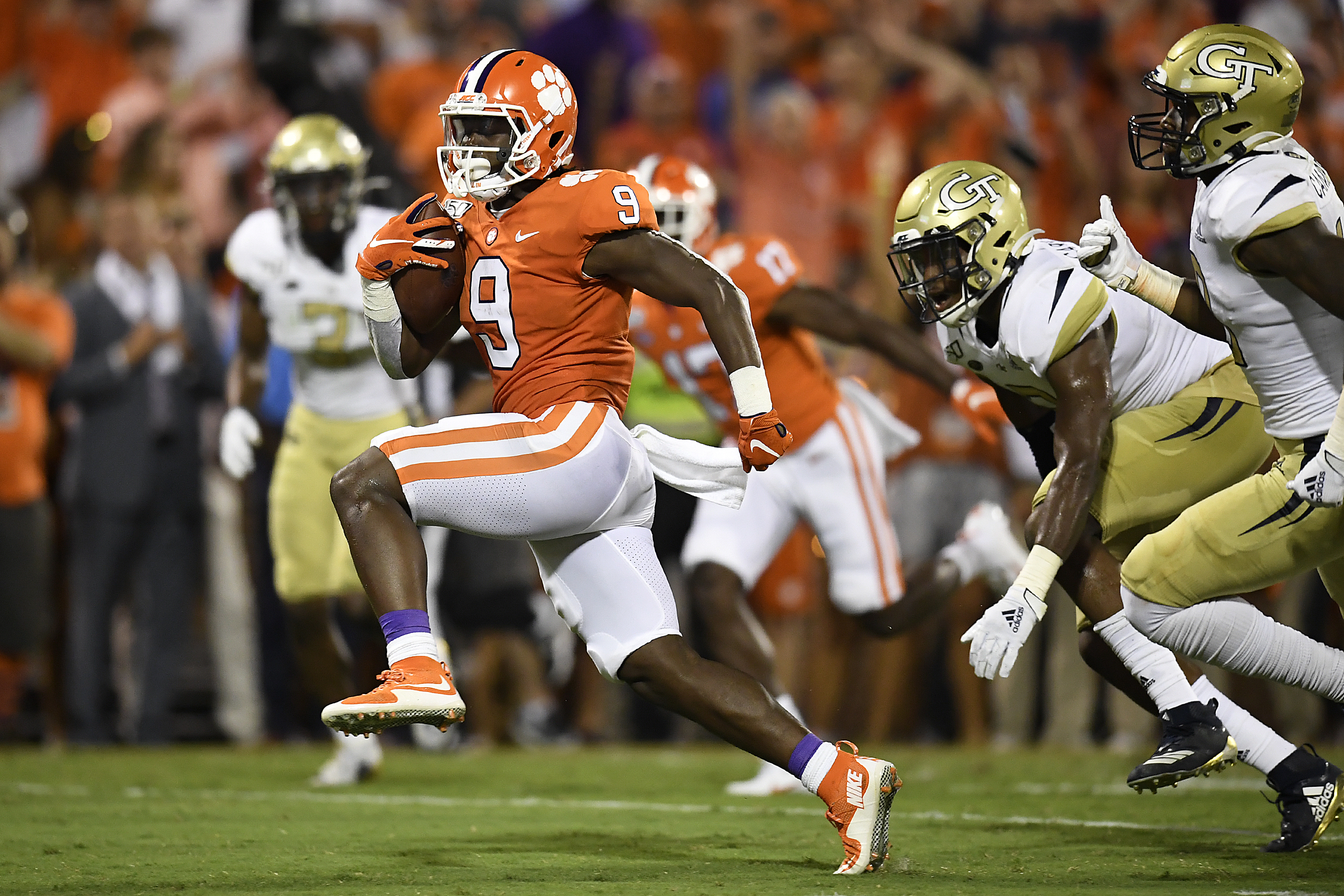 Clemson has won two national championships within the last four years and have quickly evolved into a powerhouse led by head coach, Dabo Swinney. However, their start this season hasn't lived up to that hype. Trevor Lawrence has thrown for 8 touchdowns but has also thrown 5 interceptions. They squeaked out their last game against North Carolina because of a horrible two point conversion play at the end of the game. Travis Etienne has been their best offensive weapon rushing for 462 yards and 5 touchdowns. Given the easy schedule and their toughest opponent besides the ACC championship game being a home game against a currently undefeated Wake Forest team, they likely will be in. But, if they lose a game they could be left out because of their weak schedule.
3 – Ohio State
This Ohio State team could do a lot of damage this year. Justin Fields, the transfer from Georgia, has been unbelievable this season throwing for 16 touchdowns and also rushing for 7 more (in only five games). Also, J.K. Dobbins has rushed for 654 yards and 7 touchdowns. This Ohio State offense is explosive, but their defense is just as good. Chase Young is probably the most talented player in college football and will definitely be the first defensive end taken in this year's draft. He already has 8 sacks and 17 total tackles. Also Jeffrey Okudah has three interceptions and is one of the top corners in the country. If this team can beat two tough teams in Wisconsin and Penn State (who are also contenders) and beat Michigan in the BIG House, they will get in. This team is built for a championship and they might be the most talented in the country.
4 – Oklahoma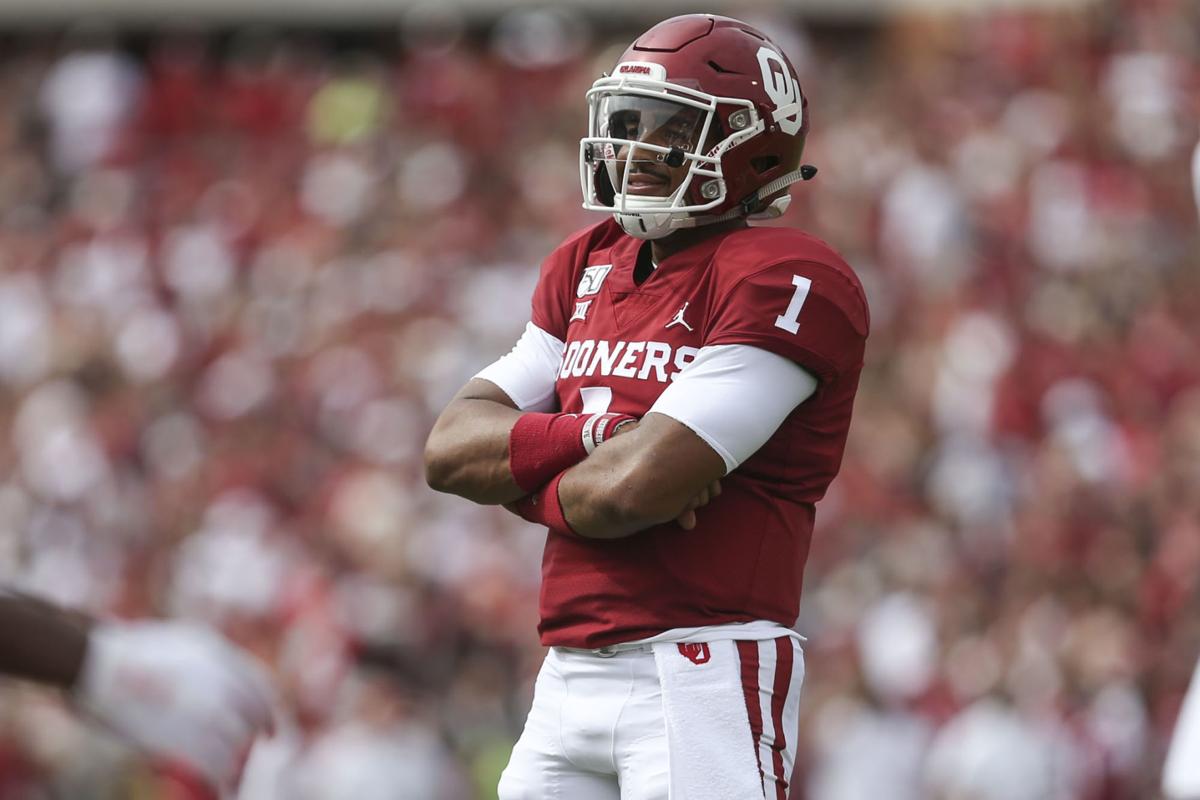 Oklahoma started off this season with one big question mark; How is Jalen Hurts going to do at a new school? He silenced the critics very quickly and has risen as an early Heisman trophy contender. He has thrown for 1,295 yards, 12 touchdowns and only one interception. He also leads the team in rushing with 443 yards and 5 touchdowns. The worry with this team however is the defense. They can score, but they have a normal Big 12 defense, a.k.a they aren't great. The offense has scored more than 40 points in every game, but the teams they are playing aren't anything to worry about. Their big test for both sides of the ball will be when they play Texas in their annual Red River Rivalry matchup. The offense is great, but I am not sure if they have enough of the other side of the ball to contend this year.
5 – Georgia
Georgia has been a new program under head coach Kirby Smart. Two years after taking over the Bulldogs, Smart won the SEC Championship and made it to the national championship game, where they lost to Alabama in overtime. That SEC Championship was the first for the program since 2005 and brought them to their first appearance in the College Football Playoff. Smart and his Bulldogs can go back to the Playoff this year if the rushing attack stays strong. Georgia has four running backs over 100 yards rushing this year and they have another at 99 yards. They have an abundance of talent in the backfield with the largest offensive line in college football history to make holes to run through. Also, they have probably the best game manager in the country in Jake Fromm. He is a great thrower of the ball and can manage a game very well. As long as this offense stays consistent, the defense is good enough to stop opposing offenses and they will be in the hunt for a playoff berth.
6 – LSU
LSU has been surprisingly very good this year. However, the biggest surprise for them has been the play of Joe Burrow. Burrow, who transferred from Ohio State to LSU in 2018, only threw for 16 touchdowns and only completed 57.8% of his passes. This season has been a totally different narrative. Through four games this year, Burrow has completed 80.6% of his passes and has already thrown for 17 touchdowns. LSU also has one of the best secondaries in the country. Grant Delpit is a top five draft prospect, Derek Stingley Jr. is a freshman and has been impressive with one interception and 10 tackles, and they also have Kristian Fulton, who is also a first round draft prospect. If Burrow's play stays consistent and the defense can force turnovers, LSU could win the SEC West and have a chance to beat Georgia in the SEC Championship Game to get into the Playoff.
7 – Auburn
Auburn has been able to surprisingly win games this year even with true freshman QB, Bo Nix. Despite being undefeated, Nix must be better if they want to make a run at the Playoff. Auburn is ranked 36th in total offense and 33rd in total defense. They have been able to win games, but with their performance so far, will they be able to beat Florida, LSU, Georgia, and Alabama? Any one of those teams they will have to play to even make the SEC Championship. They are only on this list because they have showed that they can win games, it will be interesting to see how they fare for the rest of the season.
8 – Wisconsin
This team plays old school smashmouth football and it's great to see it still has its place in college football. While other teams are obsessed with the triple option and RPOs, Wisconsin's Jonathan Taylor is the best running back in college football as he has 559 yards rushing and 8 touchdowns to go with it. They also have the best defense in the country only giving 192.3 total yards per game and solely allowing 4 touchdowns in 4 games including two shutouts in the process. The defense has also forced 11 turnovers, good enough for 2nd in the country in that category. They could use an improvement in the passing game but when you are able to knock teams around in the running game, it is not too much of a need. But how long will that last? In order to get into the College Football Playoff they must win the Big 10 and Ohio State stands in their way.
9 – Notre Dame
Notre Dame gained more believers than critics after their close loss to Georgia at Sanford Stadium. The normal criticism for Notre Dame and Brian Kelly is that they can't win the big ones, which is a fair argument considering they lost to Alabama 42-14 in the 2012 National Championship. Last year when they made it to the college football playoff they lost 30-3 to the eventual national champion, Clemson. The list goes on and on for this program over the last decade. However, this team just feels different. Quarterback Ian Book has been solid, throwing for 8 touchdowns and 2 interceptions. The running game seems to have just found it's legs after the Virginia game where Tony Jones had 3 touchdowns and 131 yards. C'Bo Flemister also had a rushing touchdown in the game. On the other side of the ball, the Notre Dame defense has been special. They have forced 13 turnovers and kept the rushing attack of Georgia under 150 yards and had more turnovers against Virginia than they gave up rushing yards. This team is a dark horse for the playoff and if they win out, they should be right in the conversation for it.
10 – Penn State
Penn State has been through a long rebuild. Since the program was put on a four-year bowl probation and a loss of scholarships for years after that, they have not been a traditional powerhouse like they used to be under Joe Paterno. Over the past three years however, they have lost only 7 regular season games and under head coach James Franklin, they are back on the map. This season, although they haven't really played anyone yet, they have averaged 50 points a game and have only allowed 7.5 points per game. If the first year starter Sean Clifford can keep impressing, they could become a factor in the College Football Playoff race. Their schedule is still tough, they have to play Michigan at home as well as Iowa, Michigan State and Ohio State. If they can somehow win at least 3 of those games and make it to the Big 10 Championship then they will have a shot at getting in.