Notre Dame has just suffered one of the most embarrassing defeats in a long time against Michigan. The Irish found themselves deep in a 17-0 hole early on in a rainy night in Ann Arbor. They were no match for the Wolverines as they lost 45-14 and never really had a shot in the game. This game was huge for the Irish. If they had won they would have had a real shot of making the College Football Playoff for the second straight year. Instead of a second consecutive playoff appearance, the same old thing happened. Notre Dame got run out of the stadium. Many Irish fans and many people around the country are wondering just what is going wrong for Brian Kelly and Notre Dame. Why can't they win the big ones anymore? Why do they get so close but can never finish the job?
Brian Kelly has been the head coach of Notre Dame since 2010 Making one national championship appearance and one College Football Playoff appearance. He has also had four seasons with ten or more wins. He turned a team that had only two seasons with 10 or more wins from 2000 to 2009, to a program that has had four in nine seasons. Brian Kelly is a good coach, but during his time at Notre Dame he has been unable to win the "big game." He has won only one "New Year's Six" bowl since he has been the coach and lost 42-14 in the only national championship appearance and 30-3 in the only College Football Playoff appearance. Under his leadership, he has also lost many games that could have propelled the team into the playoff. Games like Miami in 2017, Michigan in 2019, and Stanford in 2015 just to name a few.
The Irish have shown they can't win the big game for many years now and the Michigan game was a prime example as to why they can't. They were beaten in every aspect of the game. Michigan ran all over them, the Irish couldn't do anything on offense and special teams were bad as well for Notre Dame, with a bad punt that set Michigan up in good field position and a blocked punt that was touched by an Irish player and recovered by Michigan. This game was an absolute disaster and can be added to the growing list of embarrassing defeats under Brian Kelly.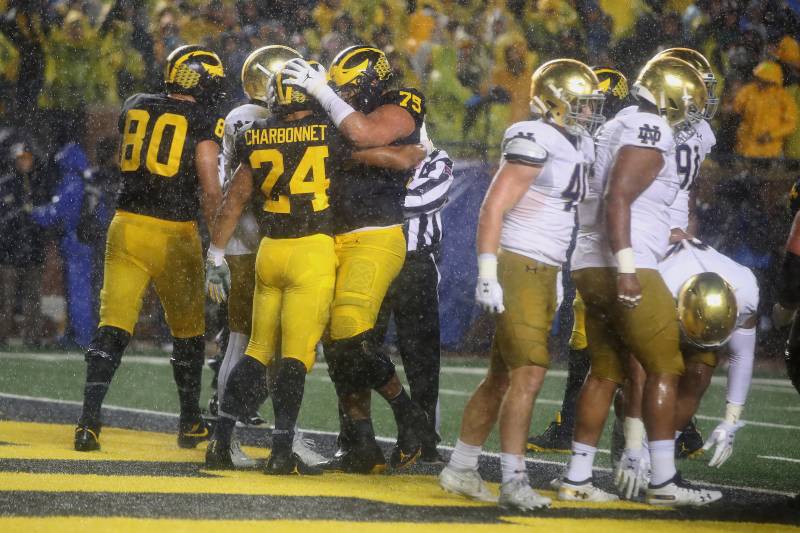 After the 4-8 season in 2016, Kelly took a step back and rebuilt the program from the inside out, changing how he coaches as well as giving up offensive playcalling. This change turned the program around for the better going 10-3 in 2017 and 12-1 in 2018 with the only loss coming to Clemson in the playoff. With all the positives from this change, the same old story remains, he can't win the big game. Kelly needs to address a host of issues with the team if he wants to keep his job and win a national championship.
Head coach Brian Kelly, offensive coordinator Chip Long, defensive coordinator Clark Lea, and special teams coordinator and recruiting coordinator Brian Polian need to look at themselves and realize that teams are no longer afraid to play Notre Dame and that Notre Dame is the laughingstock of college football. The days of Lou Holtz, Ara Parseghian and, Knute Rockne and over and they are not walking into Notre Dame Stadium anymore. The last time Notre Dame won a national championship was 1988, the program is on the edge of the powerhouses in college football, and they play on the field is not how it used to be.
Where did the leaders of this team go? During the Michigan game, it looked like they quit, it looked like they did not want to play, they looked soft. It doesn't look like it means enough to wear that golden helmet anymore. When people see those helmets come onto the field, there is no longer a sense of fear or doubt. Not many people can remember the last time that was the case. These players have the talent, the Irish are consistently in the top 20 in recruiting, now can these players show some fight when they get down? Over the years, under Kelly, when the team is down, there seems to be no way they can come back and win. The only time that has happened was last season when Ian Book scrambled on 3rd and 11 and ran over a USC defender for a first down when they were down 10 points. Other than that, there has been not much recently. It is not a matter of talent, it is an issue with coaching and effort. If this team can put four quarters together, there are not many teams that have as much talent as the Irish. But when this team goes down, they don't get back up and recover.
College football is better overall if Notre Dame is in the hunt every year. They had a shot at becoming the next powerhouse when they made the playoff and played Clemson. The Irish got run out of Cowboys Stadium. They had a chance against Georgia this year, lost a close game. Then they had a chance to have a great chance to get back to the playoff against Michigan and played the worst game possibly in the Brian Kelly era. If they want to be a contender again, it is going to take a long look at the culture and coaching of this program. This is definitely not a talent issue, that's there. It seems like the team has the losses in big games hanging over their heads every time they play a big team. Brian Kelly should not be fired, he has had two undefeated regular seasons. Most Irish fans have trust in him that he can turn the program around again like he already has. If the team fails to perform in a few years, then maybe the program should move in another direction.