Oh, it's good to be back. After watching 17 weeks of fun, but meaningless football, we have finally reached the beginning of the real season. The Playoffs are here.
It truly was an unusual season for New England, but balance is finally restored in the universe as the Patriots will once again be watching the wild card games from their couches. Finishing with an 11-5 record, they were able to slide into the two seed in the AFC with a key week 17 victory over the New York Jets.
You can tell me all you want how it was the New York Jets, but the Patriots finished the season off with a statement to the rest of the AFC – watch out.
Their 38-3 route of New York wasn't unpredictable by any means, but was absolutely necessary as they needed to figure out their problems before going into the playoffs against a pretty stacked AFC bracket. It is hard not to look ahead, but for now, let us reminisce on what happened during the annihilation in Foxboro on Sunday.
The Good
There certainly was a lot of good that came out of this game, but the overarching theme is that the Patriots finally look like the Patriots again. Like I said after the Steelers game, I don't like overreacting to anything the Patriots do good or bad, but they seemingly snapped out of their funk and looked like the team that beat the Chiefs, Colts, and Bears among others this season again. Sure, it is the Jets, but that is what makes this win more impressive.
Yes, it makes the win more impressive. Hear me out, it would've been so easy for the Patriots to take it easy and churn out a close win while playing an ugly game in week 17 against a depleted Jets squad, but they turned their play up a notch, or a few, during the final week of the season. They were locked in through every facet of the game; offense, defense, special teams, the water boys, you name it – they executed.
First, and most importantly, our noble king and fearless leader returned back to his throne. If there were any more questions about his ailing knee, Tom Brady answered all of them by playing a near flawless game. Every critic talking about a "cliff" and that Brady's age was finally catching up to him skipped dinner that night because Tommy made them eat their words all game long. Finishing 24/33 (72.7%) with 250 yards and 4 touchdowns sure doesn't sound like a cliff to me. It sure appears that Brady has already turned himself into playoff mode, a scary sight for the rest of the league. His 133.8 passer rating was his highest of the season, and if nothing else, we know that he can still perform at an MVP level when he wants to.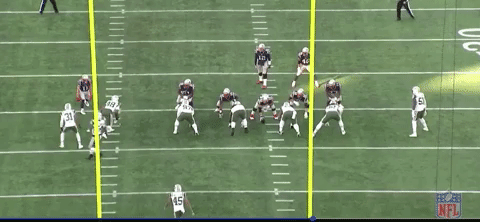 I'm sure everyone who watched the game saw this absolute beauty to Burkhead, but I love watching this clip because it shows how effortless playing quarterback is for Tom Brady. Burkhead clearly had a mis-match against a linebacker pre-snap, but there is only one spot Brady can throw this and he nails it with pure grace.
This appears to be a simple completion to Chris Hogan, but the Tom Brady I was watching during the previous two weeks would've thrown this ball into the dirt. Everything is seemingly covered right away for Brady, but he keeps his eyes moving and even through feeling pressure he is able to find Chris Hogan come free at the very end.
It seems like a small and insignificant play to pick from, but it shows that Brady still can hang in the pocket and beat your defense if you bring pressure. If he looked the same as he had the past few weeks, whomever their playoff opponent will be would have an easy game plan. That would be to pressure Brady as much as possible as he simply couldn't deal with it. Well, if they throw on this tape, it will be hard for them to want to bring pressure as he showed he can still pick you apart if you do so.
It's also worth noting that the "horrendous" supporting cast of weapons Brady had at his disposal all showed up big time for New England. Four different receivers caught at least 4 passes against New York, and it displayed that Brady has at least a small amount of trust and an established connection with them. This movement was headlined by Chris Hogan who caught 6 passes for 64 yards and Phillip Dorsett who hauled in 5 passes for 34 yards and a touchdown. I think it's almost a good thing that Brady doesn't have a receiver like Josh Gordon, because now defenses are going to have a tougher time figuring out who to guard. That is precisely what the Patriots try to do, they make defenses play the guessing game and 9 times out of 10, they guess wrong.
Once again, Rob Gronkowski didn't dominate the stat sheet like we're used to seeing, but he looked miles better than he has throughout this season. On that one catch he made where he turned up the field and outran/out-muscled half of the Jets secondary, he looked like old Gronk again. Sure, it was called back because of a (non) penalty on Dwayne Allen, but it was at least good to see a flash of how good he still is. Not to mention, the guy still garners substantial respect and attention from every defense. A lot of his disappointing stat lines are because teams simply got tired of him taking over every single game and they finally started to double team him.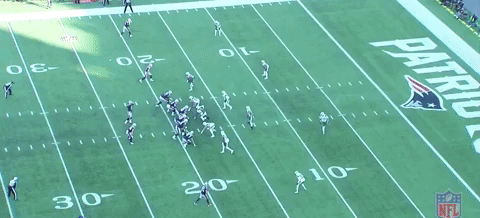 Everyone sees this play and wants to talk about how Brady missed Hogan, but how do you think he got so open in the first place? Teams are still extremely scared of Gronk. So scared that they simply forget to cover a receiver because of it. Yes, it was a busted coverage by the Jets, but no other receiver requires two sets of eyes on him at all times like Gronkowski does. All it is going to take is one team letting Gronk get single coverage for him to show everyone why he is still the most dominant player on the football field.
It is great to see this offense get on track again, and even more reassuring that our star quarterback whether injured or not, sure isn't playing like he is. Tom Brady is Vincent Van Gogh with a football and the Jets defense was his canvas on Sunday.
All the rave was about the offense in week 17, and deservedly so, but don't let that blind you from the fact that this defense showed why they are one of the best in football this year. That's right, I said it. One of the BEST DEFENSES IN FOOTBALL. If you want to see my reasoning as to why I am making this claim, I wrote an entire article about it here.
Once again, it is the Jets. I know they aren't some high-flying offense that posts huge numbers week in and week out, but holding any NFL team to 3 points is an accomplishment that most teams can't do. For example, in week 16 of the NFL season (last week), Sam Darnold and the New York Jets dropped 38 points on the Green Bay Packers. I know the Packers defense isn't anything to brag about either, but this offense wasn't playing as bad as the Patriots made it seem on Sunday.
The Jets like to start off the game by establishing at least some sort of run game, to take the pressure off of rookie QB Sam Darnold's shoulders. The Patriots, as you may have guessed, were not going to let them do that. In fact, they held the Jets running backs to a mere 76 yards on 22 carries (3.45 yards per attempt). Minus two or three 10+ yard runs, they couldn't muster up anything sustainable against this New England front. The run defense for New England hasn't been anything special lately (to say the least) but they put on a fantastic display against New York.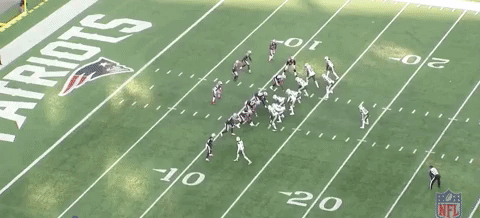 Dont'a Hightower played excellent, and on this particular play he treats this NFL Tight End like a 5 year old, straight up bullying him backwards 4 yards off the line of scrimmage. He didn't make the tackle, but this action forced the running back to take a wider angle outside instead of cutting it upfield, and JC Jackson spills right in to make the tackle for a 3 yard loss. Getting blown off the ball has been the biggest problem for the defensive line recently, and it was lovely to see them improve in that regard.
One position that has been shaky on defense this season is Middle Linebacker. Depending on game plan, it's usually Dont'a Hightower or Elandon Roberts playing that role, and it is fair to say that Roberts has looked pedestrian at some points this season. That wasn't the case Sunday, however. He was making plays all over the place, and he was doing what he was put on the field to do.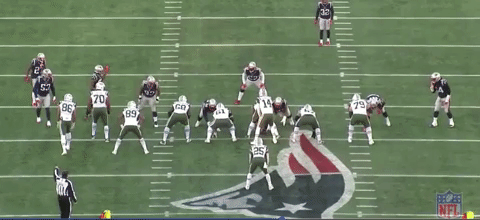 What I have noticed throughout the season is that Roberts isn't instinctive enough, and tends to be late to the hole which leads to big runs in the NFL. During this game, he was attacking downhill almost right after the snap. He looked faster, stronger, and simply more confident out there – something that if he can continue for the playoffs, will pay dividends for this defense.
This team showed once again that even though they don't have an elite pass rush, they still pressure the quarterback at rates amongst the best in the league. Recording 4 sacks on the day, it's obvious that they don't need a Khalil Mack or J.J. Watt (no disrespect to Trey Flowers who is an elite rusher in my opinion) to garner results. They win by deception and confusion, which works as well if not better than pure skill.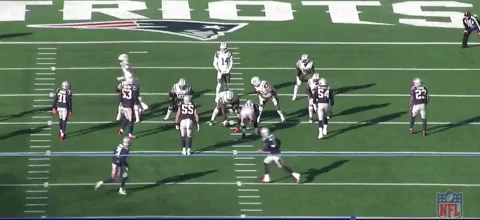 This is what has been labeled by some as the "Amoeba Defense". I, like you, am not a biological scientist but the term somehow makes sense. The Patriots have been using this scheme more and more as the season has progressed, and it has been paying off immensely. They have defensive lineman lining up at LB, safeties and corners lining up as D-lineman, and no one on the Jets has any clue who is coming and who is staying. You can kind of see it in Darnold's body language too as he hesitates pre-snap. The sheer confusion at the line of scrimmage leads to the rush getting home almost instantaneously and forcing Sam Darnold to just throw the ball away.
On the day, the Jets were 4/13 on 3rd down. That is an astounding statistic by itself, and even those 4 conversions weren't easy. It took absolutely perfect balls by Darnold to his receivers while facing pressure to convert those downs. Obviously, you would like to cover those receivers better so they can't make catches, but it's impossible to play perfect defense all the time. The Patriots force you to earn everything against them.
Plays like the one above, stopping teams on third down, are what make the difference in playoff games.
It can't be overlooked that this defense also forced and recovered 3 fumbles on the day. It is one thing for rookie QB Sam Darnold to make bad throws and the Patriots intercept them, but they made NFL players fumble the ball 3 times in normal game situations. Not to mention, they took one of those fumbles to the house.
The defense has shown at at least one point this season that they can dominate any facet of the game. If they can somehow put together a complete game, dominating every facet, some team is going to get absolutely humiliated.
The Bad
It almost pains me to have to write this section, but no one has done anything special without acknowledging first that they weren't perfect. The Patriots played a near flawless game against the Jets, but there are still a couple of things that I know they will be looking to improve from this game.
To start off, they were a mere 5/11 on third downs. It has been a common theme for them recently, not converting on third downs, and Sunday was no different. A lot of their drives didn't even feature many third downs, but when they were put in those situations they weren't spectacular. On two third downs and one fourth down, the Patriots had 2 or less yards to the first down and didn't convert. Getting those first downs in short-yardage situations are imperative to keep the offense moving and keeping drives alive, especially in the playoffs. They are for sure going to have to clean that up for the post season, as the difference between a drive ending in a punt and a drive ending in a touchdown could be a win or a loss.
J.C. Jackson has been a revelation for the Patriots in the latter half of the season, and his play has sparked a revolution in the New England secondary of late. Nonetheless, he came back down to earth in this game. I don't have access to the exact statistics, but most of the Jets' third down conversions came with him in coverage. He didn't look the same, and his play certainly reflected that. I don't think this is a huge area of concern, but I do think it is something worth noting. He will need to return to form during the next game as he plays a crucial role in this defense.
Everyone wants to talk about every other team in the AFC playoffs right now. The Ravens defense, the Chiefs offense, the improbability of the Colts and Texans actually making it there, but no one is talking about the Patriots in a positive light. They look at the Patriots 11-5 record and say that they underachieved, and are simply not the same team anymore. Allow me to set the record straight. This team is a flukey touchdown in Miami away from being the #1 seed in the playoffs. Colin Cowherd put it best, if Gronk was a better safety, the AFC runs through Gillette Stadium. This team didn't underachieve by any means, just hit a few bumps in the road. Let me remind you that this team just lost the Super Bowl in horrifying fashion. If you don't think the memory of losing that game looms in the back of Brady and Belichick's minds every waking minute of every day, then you're simply wrong. This team hasn't done anything yet, and they know it.
All I have to say, is watch out – The New England Patriots are BACK.