Mahomes vs. Brady. Belichick vs. Reid. Both teams vs. the weather. Smash mouth offense vs. air raid offense. I could go on and on with the story lines that are circulating from this matchup of two of the NFL's best teams but the bottom line is, it is Patriots vs. Chiefs with a trip to the Super Bowl on the line.
The matchup for this article and frankly the most important matchup in the game is the Patriot defense vs. this explosive Kansas City offense. How is the volatile New England resistance going to fare against Patrick Mahomes and their violent attack? I'll be frank with you right off the bat – it is going to be extremely difficult. I spent countless hours charting this offense and watching film trying to find any weaknesses, and they genuinely don't have any. The Charger offense last week was dynamic in both facets of the game, but they had notably struggled in certain spots – making it easier to scheme against. There simply isn't a thing that the Chiefs do particularly poor or even below average for that matter. They truly are a generational offense and Belichick and that coaching staff undeniably have their hands full preparing for them this week. This being said, there are specific things I noticed that could be potential spots for this defense to exploit on Sunday. Here are the keys for the Patriot defense to fester the Chiefs forceful attack.
#1 – Force Their Hand
The Andy Reid-led offense has proven to be compelling in both rushing and passing this year. They can and have won doing both extraordinarily well. Kansas City finished the year with the 11th most rush yards per game (119.7) and 3rd most pass yards per game (306.4). You can't realistically stop both, so it is my belief that the Patriots have to exert all of their resources into stopping the pass. Inherently, this means that they are going to have to live with the Chiefs picking up big chunks through the run game. It sounds bold, allowing other teams to dictate the pace of the game by crushing it on the ground, but the Chiefs aren't just any team.
I am not saying give up on the running game all together, but the main focus should be on the air raid. There are ways to slow down this running game with minimal personnel.
This is the Chiefs success rates running by direction. They clearly prosper running the ball to the outside greater than to the inside, and I think having the extra DB's on the field to help with the pass will also assist in run support by adding speed to get to the outside quicker.
Much like the Chargers did to the Ravens, the defensive tackles will have to get in gaps and knife upfield to disrupt all of the commotion in the backfield. New England did it on this snap against Kansas City this year. The DT's get in gaps and attack upfield to stop Kareem Hunt behind the line of scrimmage before he can break to the outside.
Andy Reid has been a heaven-send for Kansas City ever since he started coaching there, but if he has one eminent blemish, it is that he tends to get too pass-happy. It is evident this year as the Chiefs have the 3rd highest 1st half run-to-pass ratio of 65% pass/35% run. They are 11th overall in the league if you factor in the entire game, but the Chiefs were usually up big by halftime this year, leading to them running the ball at a higher rate. Even then, the 11th highest pass rate for a team that is so used to be bulldozing teams by halftime screams that the Chiefs love to pass the ball. Since these full-season statistics can be misleading due to playing many inferior opponents, I took a deeper dive into their statistics. I charted every single drive the Chiefs had when they were only up by 7 or less, tied, or trailing after halftime.
You don't have to read the chart / probably can't anyways, but the point is this is how hard it was to find weak spots. Everything highlighted in green were the only statistics I found that were significant enough to consider. What I found from this chart is that when the game was close in the second half (within 7 points), they averaged 1.9 rush attempts and 8.8 rush yards per drive opposed to 4.1 pass attempts and 36.9 pass yards per drive. Now, these runs are including scrambles by Pat Mahomes, and if you take away those it looks something like less than 1 rush attempt per drive. My point here is that the Chiefs become much more predictable when the game is close, dropping back to pass every 4 out of 5 plays or so.
When they are trailing in the second half, it gets even better. Their average time of possession per drive lasts only 2:13 whereas when they are winning or tied their average time of possession per drive lasts 3:55. Relatively predictable offense and low time of possession fares well for New England should they be able to keep the game close in the second half.
Regardless of how well they run the football all throughout the game, they will get away from it. For example, they were trailing the Seahawks on all 5 drives they had in the second half of their week 16 matchup. On those drives, they only ran the ball 5 times and threw the ball 27 times. That is an 84% pass to run ratio. It's not like they weren't having success in the run game either. Throughout the game, they were averaging an astounding 8.1 yards per carry. Even on those 5 second half drives, they were averaging 11 yards per carry. It is safe to say that when the Chiefs are in a close game, they rely heavily on their pass game and their run game is more or less tossed aside.
These examples are prime reasons as to why I find it imperative that the Patriots try to stop the pass and not allow Mahomes and their receivers to get into a groove. I know the running game hasn't taken a step back after losing Kareem Hunt late in the year, in fact they have actually been more efficient. However, Damien Williams running the ball doesn't scare me like Kareem Hunt did. Williams is a more than capable running back, but he isn't as explosive as Hunt was and doesn't pose that same home run threat. New England has to test Reid / Mahomes' patience and see if they will stick with the run all throughout the game and beat them that way. I personally don't think Reid has displayed the fortitude to keep running throughout the course of a game this year.
#2 – Make it Difficult to Pass the Ball
Yes, it seems blatantly obvious that the Patriots must stifle this prolific passing attack with Travis Kelce and Tyreek Hill amongst others but it is so much easier said than done. Tyreek Hill is the fastest player on the football field and no one in the NFL can run stride for stride with him. Travis Kelce has the build of a tight end but runs like a wide receiver. Either of those guys left 1-on-1 is just asking for trouble, especially with a quarterback like Mahomes who can get them the ball with ease. Now, the Chiefs have Sammy Watkins, Damien Williams, and other guys like Chris Conley who are not to be ignored but taking away Kelce and Hill really obstructs this offense. Here is how Mahomes shared his targets over the season (minus Kareem Hunt).
KC Overall Target Share 2018
Travis Kelce – 160
Tyreek Hill – 150
Sammy Watkins – 63
Chris Conley – 54
Demarcus Robinson – 33
Spencer Ware – 30
Damien Williams – 23
Demetrius Harris – 26
Kelce and Hill totaled 310 targets, 81 more than the other 6 pass catchers combined. The others can still hurt you and demand attention from the defense but taking away these two specifically will elevate New England's chances of stopping the Chiefs. You can't stop Kelce and Hill all game but if they were to hone in on a certain portion of the game, it would for sure be third downs. Here is how Mahomes shared his targets this year on 3rd downs.
Tyreek Hill – 37
Travis Kelce – 36
Everyone else combined – 21
When the going gets tough, Mahomes is going to be looking for Kelce and Hill more than anyone else. If you force him to find his other receivers, he is susceptible to making poor decisions. If those other receivers beat them then so be it, you have to tip your cap to them. They are going to have to live with the other guys making plays as that is the best chance they have.
Now, how do you deduct these two pro-bowlers from having an effect in the passing game? All week long I saw speculation from multiple sources of how the Patriots should match up with the KC pass catchers – but here is how I think it should go. I believe they play a mix of coverages but when they run man, Stephon Gilmore should shadow Tyreek Hill as he is New England's fastest and most agile corner. Whoever the free safety is whether it be Devin McCourty or Duron Harmon has to keep eyes on Hill at all times. Not a straight double team but, a safety net should Hill beat Gilmore deep.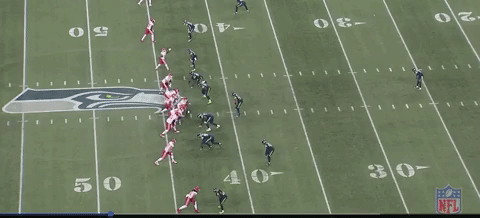 Seattle did this on a couple of occasions during this matchup. They ran man across the board and had the deep safety keep eyes on Hill (3rd receiver from the top of the screen). Hill had a step on the corner but the safety jumped his route and Hill was taken away. This made Mahomes panic and end up throwing an errant pass to Travis Kelce for an incompletion.
As for Kelce, you can't forget about him either. What I've noticed with Kelce is, despite how great he is, he's kind of soft. I'm not going to deny how fantastic he is but when the Patriots played the Chiefs in week 6 they would have Dont'a Hightower stand over him at the line of scrimmage and jam him before he could get off the line. This not only threw off the timing on his route, but it made it easier to guard him 1-on-1 off the line of scrimmage. Patrick Chung has been the Patriots tight end stopper for years now and I expect him to take Kelce on man defenses. Candidly, Chung hasn't looked the same as he has in years past and Kelce is a difficult matchup for him but he has the most experience with not only Kelce, but tight ends in general. Kelce is a tough matchup for anyone but there is no one I trust more than Chung to step up to the plate.
Watkins is the third option in this offense and absolutely can't be forgotten. With how J.C. Jackson has been playing recently, I would staple him to Watkins and leave him on an island. He isn't shut down like Gilmore, but I like his chances against Watkins – who is coming off an injury.
#3 – Get Pressure Early and Keep Mahomes in the Pocket
Man coverage constitutionally is bound to break down if the QB is given ample time to find a receiver, especially with the improvisational, back yard-style of football that Mahomes plays with his receivers. It is crucial that the Patriots are able to get pressure on him early so he doesn't have a chance to make those MVP-type plays we've seen all season. Luckily, getting pressure hasn't been a problem for New England of late.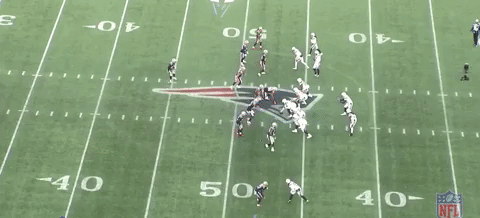 This snap is from last week, and the Patriots are able to get pressure within seconds of the ball being snapped despite only rushing four defenders. Everyone is covered (to some extent) and Rivers just has to throw the ball away leading to a punt.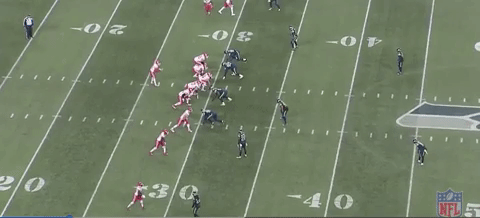 Here is an example of the back yard football I was talking about earlier. You can play perfect coverage but if you let Mahomes break contain, he will find an open man. This throw goes against everything a quarterback is told from a young age, but Mahomes is not your average QB – he will make these plays if you let him. The rush has to bring pressure but contain him inside of the pocket so he can't break out and extend plays. It wouldn't surprise me to see someone like Kyle Van Noy as a QB spy this week – meaning his one and only job is to sit at the line of scrimmage and follow Mahomes wherever he goes so he can't make plays like this. Sure, it surrenders a rusher and a coverage defender, but it is in my opinion essential when playing Mahomes.
This is a good example of the rush containing Mahomes while getting pressure. Yes, the linebacker coming free up the middle forces this quick throw but the rush from the right side of the line doesn't overshoot the QB and he can't simply break contain to the right to extend the play.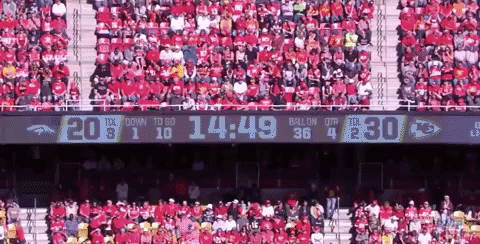 Denver does the same thing on this play. The rush makes Mahomes step up in the pocket as opposed to outside of it, where he meets more pressure thus cultivating a poor decision from the young QB that leads to an interception. That's another thing about Mahomes – he tries to make big plays even when they aren't there. He has converted more than his fair share of explosive passes this year, but some of his throws are ill-advised and can lead to turnovers like they did here.
That play was a perfect segue into the next segment which is all about Mahomes' decision making. While I will admit he has demonstrated superb decision making throughout the year, there is still a little of young and inexperienced QB in him somewhere.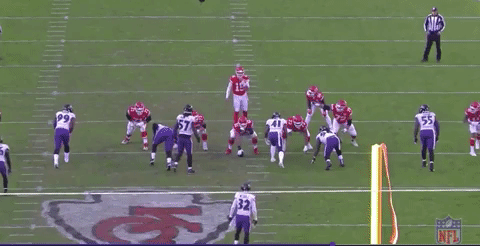 This snap is similar to the Denver one shown above, but the pressure not only keeps him in the pocket, but gets to him rather quickly. When this happens, he should just eat the sack and live to see another down. Instead, he tries to force it over the middle to Tyreek Hill while being dragged to the ground and it turns into an easy interception for Baltimore. Another thing to notice here, the 6 guys on the line of scrimmage confuses the O-line and also Mahomes. He doesn't know what coverage is being run and it most likely plays a role in this erratic throw.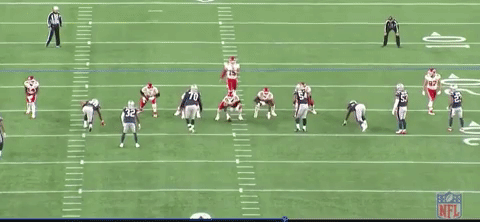 In their week 6 matchup, the Patriots were able to forge pressure on 3rd down and Mahomes just throws it up for grabs to Hill. This should've ended as an interception by Jason McCourty but nonetheless was a great play by the pass rush and secondary to force a punt.
#4 – Mix Up Coverages and Don't Reveal Yourself Pre-Snap
Andy Reid is a mastermind at giving Mahomes as much information as possible pre-snap to identify what coverage is being run. On most plays I've watched, when defenses tipped off the coverage they were running pre-snap Mahomes already knew where to throw the ball. If you give him too much information as to what defense you're running – you've already lost. The Patriots will have to mix up coverages all game and not allow Mahomes to get in a sustained rhythm.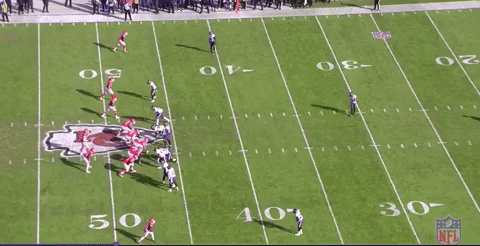 When Baltimore entered into Arrowhead Stadium in week 14, they unquestionably kept Mahomes on his heels all game long. They mixed up pressures and coverages on every snap and Mahomes had a challenging time figuring it out. Here they send Eric Weddle deep right before the snap towards Tyreek Hill's side and by the time the pressure arrives, Mahomes just throws this ball away.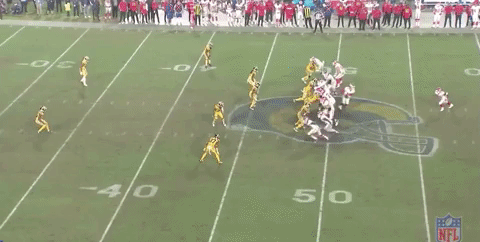 While it would be nice to run man all game, it isn't sustainable. Eventually, you're going to have to throw a couple of zone concepts in there to not only throw off the Chiefs, but to give the secondary some rest. This snap from the notorious Monday night matchup with the Rams is a good example of a zone they can run with success. This isn't just your normal – drop back to a spot and watch the QB – zone, it is called pattern-match zone. The concept is believed to have been pioneered by Bill Belichick himself and basically means once a man occupies your zone, you run with him until someone tells you to bump off. It takes a lot of communication on the defenses part but proves to be more than effective when executed. The Rams show cover 2 pre-snap, and Mahomes is surprised when the spot-drop defenders start running with his receivers. The disorientation leads to an interception. It was late in the game and Mahomes had no option but to throw this ball as they were trailing but either way, all the receivers are covered downfield.
If you made it this far, pat yourself on the back. You are a true fan of this team. I apologize for the length of this article but the reason it is so extensive is because the Chiefs aren't one-trick ponies. They haven't showed many if any weaknesses at all this season. Stopping them will prove to be exceptionally strenuous and far from a walk in the park. However, with discipline and execution (the main things Belichick preaches) from everyone it is certainly possible.
New England will walk into the stadium Sunday as four-point underdogs (as it stands now). I'm well aware of the Patriots history in AFC Championships on the road as well as their documented struggles away from home this season, but you simply can't bet against this team at this point in the year. Being a Patriots fan, obviously I'm a little biased but I've been trying to look at this game from a neutral-ish perspective and I can't imagine a scenario where the Patriots don't book a trip to Atlanta after Sunday. Let me remind you, the Patriots just DISMANTLED the LA Chargers one week ago. Say what you want about that team, but they came into Arrowhead and defeated Kansas City without Melvin Gordon and Keenan Allen just about a month ago. Even last week when they played the Colts, the game was a lot closer than you would think. A missed field goal at the end of the first half and penalties were what prevented the Colts from mounting a comeback. The Colts defense was nothing special, but they pitched a shutout in the final half of the game until Kansas City's final drive of the game. Here is how KC's drives ended in the second half.
Turnover on Downs
Punt
Fumble
Punt
Punt
Touchdown
Five of their 6 drives didn't end in any points. You can't tell me that the Chiefs stopped trying to score either. Not only were they taking downfield shots the whole second half, Andy Reid coached the Chiefs in 2013 when Andrew Luck dug the Colts out of a 28-point second half deficit to win their Wild Card weekend matchup. This team was 100% still attempting to put the game away in the second half, and aside from their final drive, they couldn't. I'm not denying the potency of this offense, but they can and have been contained.
All in all, this is shaping up to be a fantastic AFC Championship game. Sunday will be a fun one for sure. #BetAgainstUs
Let's. GO.