One of the biggest problems in Major League Baseball is their lack of marketability. A 2018 study published on NBC Sports stated that baseball's best player, Mike Trout was no more recognizable than Kenneth Faried of the NBA. I believe that it is not because the MLB doesn't have fun or exciting players. My hope with these MLB Player Spotlights is to show baseball's fun side to the casual fan. There are players with tons of flair and have fun, and I think it's important to share that. With that being said, I introduce you to a player who took the league by storm this weekend, Jazz Chisholm.
Who Is He?
Jazz Chisolm is a Second Baseman and Shortstop for the Miami Marlins. He was born in the Bahamas in 1998 and is the Marlins' #4 ranked prospect. Chisolm is also the #62 prospect in baseball, as the Marlins acquired him when the Diamondbacks traded for Zac Gallen.
After spending the last few years in the Minor Leagues, Chisolm came into Spring Training in a battle to be the Marlins starting second baseman. Although Isan Díaz was expected to win the job, Chisolm impressed the staff in preseason games. He belted a leadoff homer in Miami's spring opener, then went 1-for-17 with seven strikeouts. But the 23-year-old made a strong push down the stretch, going 9-for-23 with seven runs, two homers, four RBIs, four walks, six strikeouts, and four stolen bases over his last 11 games. The 24-year-old Díaz finished 2-for-34 with seven walks during Spring Training.
Electric Opening Weekend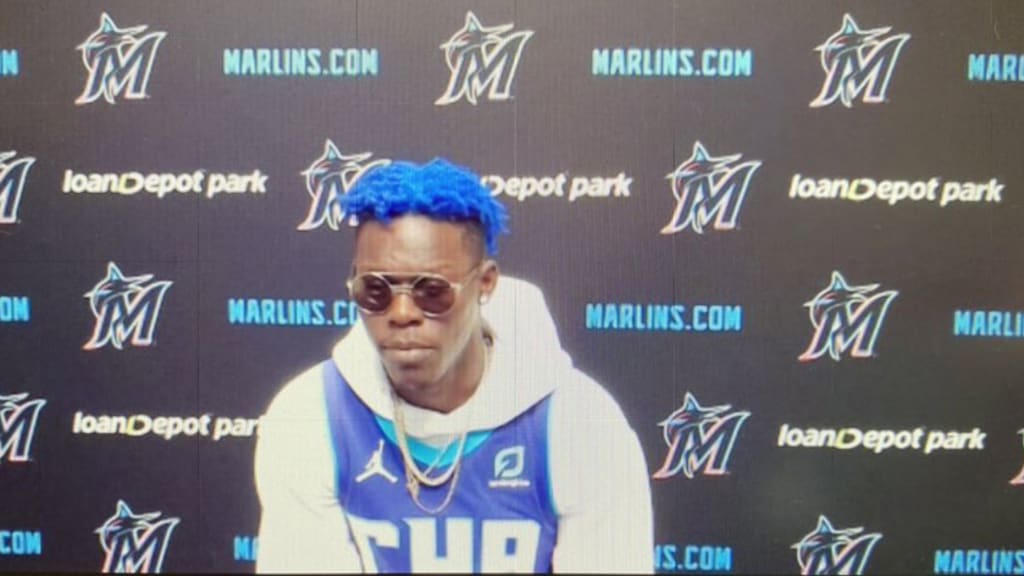 Jazz celebrated his first Opening Day but dying his hair blue, matching it with a LaMelo Ball Charlotte Hornets jersey on the pre-game Zoom call. Chisolm said Ball is his favorite basketball player, and he has watched LaMelo since he was a freshman in high school. Both wear No. 2, with Chisholm rocking his for Hall of Famer and Marlins CEO Derek Jeter.
It was more than just his hair that took the league by storm on Opening Weekend; it was his wheels as well. After a 0-3 night in the Marlins' 1-0 loss in game one Thursday night, Chisholm went 2-3 with a walk, a triple, and a run scored in Friday's 6-4 loss. Chisholm's triple sparked a two-out rally in the 7th inning, and he went on to score the Marlins' first run of the season when Corey Dickerson doubled.
Jazz Chisholm is ELECTRIC!! ⚡️⚡️⚡️pic.twitter.com/EsyAJxvNKm

— Ben Verlander (@Verly32) April 3, 2021
In game three, Chisholm flashed his speed on the base path in the Marlins 12-7 win in the series finale Sunday night. He opened the fourth inning with a walk and went on to steal both second and third base. After Chad Wallach hit a shallow ball to right field, Chisholm scored on a sac fly.
Jazz Chisholm is fun to watch pic.twitter.com/uEUqvXll8v

— Baseball Bros (@BaseballBros) April 4, 2021
His display of speed was breathtaking, with Statcast proving how elite his speed was. Rich Hill threw to pickoff Jazz at first three times during Jon Berti's at-bat. After another pickoff attempt with Chad Wallach at the plate, Chisholm got such a big jump that he stole the base despite Hill stepping off the mound and throwing to second. The rookie wasted no time racing for third, recording a sprint speed of 29.5 ft/sec on the next pitch.
Later in the at-bat, when Wallach sent a shallow fly ball to right field, Chisholm turned it up another gear — reaching 30.6 ft/sec to score on the sac fly. According to Statcast, 30 ft/sec is considered elite, 27 ft/sec average. (via MLB.com)
The Future Is Bright
For me, it is impossible to root against this guy. He brings a certain flair and swagger that Major League Baseball desperately needs to reach a younger audience. Chisholm plays with passion and energy and has high expectations for himself. Jazz said that he wants to be the first player born in the Bahamas to make it to the Hall of Fame. Watch this clip and tell me you don't want to root for this kid.
"The crowd, it's astonishing. I want to be a big leaguer every day of my life now…

…baseball, I just feel like it's just so me…

…I don't think there's another team in baseball with swag like the Miami Marlins."

Hear from the kid, @j_chisholm3 ?#JuntosMiami pic.twitter.com/yo6Zc3b29m

— Bally Sports Florida: Marlins (@BallyMarlins) April 3, 2021
Let me know on Twitter, @nicksimeone20, who the next player to be spotlighted should be!