It's playoff time in the MLB and that means soon enough they will be announcing the 2019 Award winners. Back in March I did my early predictions, so I will compare them to my picks now.
Most Valuable Player
American League
Original: Mike Trout (LAA)
New (same): Mike Trout
Trout tears the league up every year he steps on the field. He led the AL in OBP (.438), SLG (.645), and OPS (1.083). He also had the highest offensive WAR (wins above replacement) in the entire MLB while missing some games. Bregman is definitely a close second in the MVP race, but Trout was incredible this year and deserves another one.
National League
Original: Nolan Arenado (COR)
New: Cody Bellinger (LAD)
Beli or Yeli? That has been the theme all season for the NL MVP race. I think it will have to go to Beli though. Christian Yelich was so good all year leading the NL in all AVG, OBP, SLG, and OPS. But Bellinger had the highest WAR in the MLB and he was right behind Yelich in those stats. Maybe if Christian Yelich had played the rest of the season he would be the MVP, but I think Bellinger has that slight edge. Don't sleep on Anthony Rendon either. He will definitely get deserving votes for MVP because he also had a great year.
Cy Young Award
American League
Original: Chris Sale (BOS)
New: Gerrit Cole (HOU)
This race could go either way with teammates Gerrit Cole and Justin Verlander both having excellent seasons. Cole was so dominant this year leading AL pitchers in ERA (2.50) and strikeouts (326). We can't just ignore those two starts that Cole had against the Rays in the ALDS too. He gave up only one run in 15.2 innings with 25 strikeouts. I would not be surprised if Verlander wins, but my pick is Cole.
National League
Original: Aaron Nola (PHI)
New: Jacob DeGrom (NYM)
DeGrom had another great year for the Mets and I think he will win his second consecutive NL Cy Young. Jack Flaherty of the Cardinals and Hyun-Jin Ryu of the Dodgers both had great seasons, but with DeGrom leading all NL pitchers in WAR and strikeouts while also having the second best ERA, he will take the award.
Rookie of the Year
American League
Original: Vladimir Guerrero Jr. (TOR)
New: Yordan Alvarez (HOU)
Vlad Jr. had a pretty good rookie season, but the one who stood out the most was Yordan Alvarez. He joined an already loaded Astros team and made a huge and immediate impact. His line was incredible for a rookie: .313 (AVG), .412 (OBP), .655 (SLG), 1.067 (OPS). He also had 27 home runs (second amongst AL rookies).
National League
Original: Fernando Tatis Jr. (SDP)
New: Pete Alonso (NYM)
Pete Alonso seems to be the clear cut pick for NL ROTY after breaking the rookie home run record this year. He hit 53 home runs and added on 120 RBIs with a .941 OPS. The previous record was held by Aaron Judge with 52 home runs. My pick from before the season, Tatis Jr., had such an incredible year to start. Unfortunately, he had an injury that ended his season. If he didn't get injured I believe he would have won it over Alonso.
Manager of the Year
American League
Original: Alex Cora (BOS)
New: Rocco Baldelli (MIN)
Unfortunately, my pick from the beginning of the year was not close because of how upsetting the Red Sox were. Rocco Baldelli had an excellent year with the Twins. They had a 23 win improvement from last season winning the division for the first time since 2010. Aaron Boone also had a great year with the Yankees, but that was expected so I think Baldelli deserves the award.
National League
Original: Gabe Kapler (PHI)
New: David Martinez (WAS)
The Nationals have always either missed out on the playoffs or got knocked out in the first round. This year, David Martinez did a great job getting the Nats to the playoffs and they finally made it to the NLCS. They missed out last year barley breaking .500, but Martinez got them to 93 wins and they are having an impressive playoff run.
Comeback Player of the Year
American League
Original: Kevin Kiermaier (TBR)
New: Lucas Giolito (CHW)
Last season, Giolito was probably the worst starting pitcher in baseball. He had an ERA of 6.13 and led the AL in walks and the entire MLB in earned runs. This year, making his first career all star appearance, he had a 3.41 ERA and had 11.6 strikeouts through nine innings (third to Cole and Verlander… the top two cy young candidates). What a great improvement he had.
National League
Original: Corey Seager (LAD)
New: Josh Donaldson (ATL)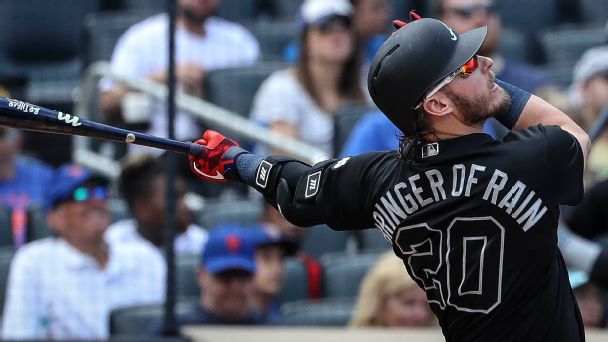 Donaldson had faced a bad shoulder injury last year that allowed him to play in only 52 games. In his first season with the Braves this year he only missed seven games. His stats in every single category were improved. Donaldson belting 37 home runs with 94 RBIs helping the Braves win the NL East for the second straight year.
Hank Aaron Award
American League
Original: Mike Trout
New (same): Mike Trout
I want to pick someone else, but Trout just ad too good of a year to not win this award. He had the highest offensive WAR in the AL. He also led in OBP, SLG, and OPS while hitting 45 home runs and 104 RBIs.
National League
Original: Bryce Harper (PHI)
New: Christian Yelich (MIL)
Winning back to back best offense player in the NL will not be a challenge for Yelich this year. As previously mentioned, he led the NL in AVG, OBP, SLG, and OPS. That is insane.