With their first pick in the 2019 NFL Draft, the New England Patriots surprisingly selected N'Keal Harry, a wide receiver from Arizona State. I say it is surprising because the Patriots rarely use a first round pick on skill positions. In fact, in the Belichick era New England has never taken a wide receiver in the first round.
With their bevy of picks in this draft (12) many people anticipated them to trade up and possibly select a tight end or defensive lineman as those both seemed to be positions of need after a relatively ailing offseason. When that didn't happen, I can tell you I am not the only one who was fully expecting an offensive lineman or cornerbacks name to be called with the 32nd pick. Well, Belichick decided to throw Patriots nation a curveball by taking a wide receiver in the first round, and many people didn't know how to feel.
A lot of people were perplexed as to why they took Harry when names like D.K. Metcalf and A.J. Brown were still on the board. Even I wasn't sure how to feel but after doing research on all of those players, Harry makes the most sense for New England.
N'Keal Harry is one of the "bigger" receivers in the class at 6'2" 228 lbs. He has 33-inch arms which puts him in the 81st percentile for the draft class. He definitely is a larger target and gives the Patriots a different type of option on the outside.
Receivers of his stature are sort of a dying breed in today's NFL with players like Antonio Brown, Julian Edelman, and Tyreek Hill breaking the mold for smaller and more agile guys. It is my belief, however, that the Patriots are once again staying three steps ahead of the rest of the NFL by attempting to bring back this position into an NFL offense.
A 4.53 forty-yard dash doesn't look fantastic on the surface, but his height-adjusted speed score is in the 90th percentile. This basically means that he runs pretty damn fast compared to other players at his height. Also, forty-yard dashes are an overrated measurement in my opinion because unless you are Tyreek Hill, you will rarely be running routes in a straight line.
The thing that catches my attention the most here is his 81st percentile catch radius. The Patriots no longer have that "big" target in their offense now that Gronk is retired and I'm sure this was one of the main things that Belichick considered when looking to draft a wide receiver.
One of the main things that New England looks for in the early rounds of the draft is high floor players. There may have been much more intriguing prospects still on the board who are gifted athletes but did not have the productivity in college. Example A; D.K. Metcalf is one of the most physically gifted wide receivers the NCAA has ever seen, but his productivity in college wasn't even the best on his own team. I'm not naive to the fact that there could have been a multitude of underlying reasons as to why that was the case but the Patriots aren't in the business of taking risks this high in the draft.
Harry was extremely consistent in his three years at Arizona State and as you can see he contributed as soon as he walked on to campus. His production in college shows that he has the ability to walk on to the field and make a difference right away.
Now, production doesn't just come out of nowhere. Harry was able to produce at such a high level for many different reasons at Arizona State. He possesses a specific skill set that the Patriots will have to exploit when he is out there on the field.
Let's get into exactly what Harry brings to the table.
Negatives
Separation
As is customary, I figured I would give the bad news first.
While N'Keal Harry does a bevy of things well, he isn't a great separator against tight coverage. No prospect coming out of college does everything 100% well, but it certainly is something to take note of. This may be a red flag for some people when evaluating wide receivers, especially in a Patriot offense that runs on elite separators like Julian Edelman and Josh Gordon. However, the Patriots are among the best in the NFL at putting their receivers in the best position to succeed.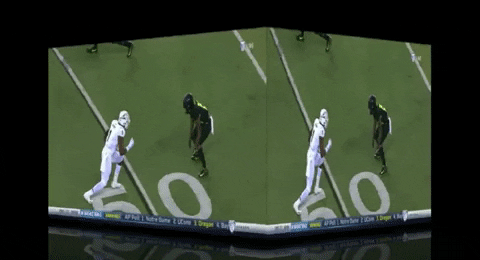 On this snap, Harry faces press coverage against Oregon and as you can see, he isn't able to create much separation. Granted it is good defense, there are multiple things wrong with this route by Harry. He does a decent job of jabbing outside then continuing his route inside but he doesn't break down and reduce his surface area enough. For a guy as big as he is, he needs to keep his hands tight to body so that it becomes harder for a corner to get a piece of him early in the route. He also takes too many steps on this route which makes it easier for the corner to keep pace with him. The extension of his arms at the top of his route actually gives something for the corner to subtly grab onto. All these nuances are little things that will have to be fixed when he arrives in New England, but with his physical tools I'm sure he can correct these mistakes quickly.
This "negative" doesn't worry me too much because I'm sure Belichick and McDaniels already know this isn't one of his strengths. They can put Harry off the line of scrimmage in a "big slot" role that we saw work with players like Marques Colston, Jordy Nelson and Adam Thielen to avoid press coverage and take advantage of smaller guys. Not to mention putting Harry in motion pre-snap to keep the defender guessing will easily free him up off the line. What I am trying to say here is that there are ways to hide Harry's few flaws and exploit his strengths, something the Patriots are really good at.
Positives
Now that the negatives are out of the way, let's move on to what made Harry a first-round pick.
Catch Point Strength
Harry is arguably the best 50/50 ball catcher in the class. Any time the Arizona State QB was rushed and didn't have anyone wide open, in true Eli Manning fashion he would close his eyes and throw it up to the wide receiver. In Harry's case, he came down with the ball most of the time.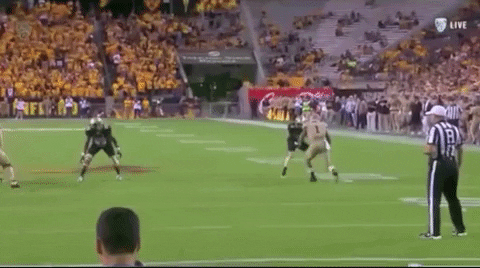 On this catch, Harry does everything perfectly. He explodes off his inside foot to immediately gain outside leverage for this back shoulder fade. As soon as he gains his outside leverage against the corner, he whips his head around looking for the ball. He realizes that the ball is coming his way and flashes his hands at the very last moment so the corner can't get his arm in there to break up the pass.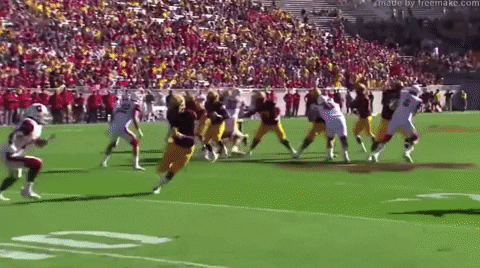 Here is another contested catch, but a different kind nonetheless. Once again, he doesn't go for the ball until the last possible second so that the corner can't get in between his hands before the ball reaches him. What stands out to me is his elite body control here. He basically rotates his entire body at the last second to both shield the defenders from the ball and haul in this catch. This is the type of stuff you saw with Aaron Rodgers and Jordy Nelson when they had that stellar connection a couple of years ago. Harry can win contested catches in a thousand different ways – something not every receiver can do even at the highest level.
Route Running
While Harry's route running isn't up to par with some of the other receivers in the class, that doesn't mean it's something he can't do. In fact, I actually saw a lot of things in his routes that are already at an NFL level. He doesn't have the quickness or lateral mobility to separate in that way, but he does all the little things that someone of his size needs to do to create space for himself.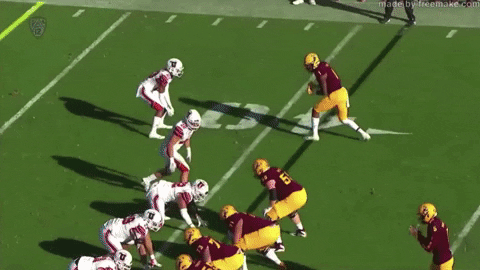 Before the snap, the corner is aligned with inside leverage against Harry in order to prevent him from stemming his route inside. Harry takes his first step outside to get the corner to false-step, then pushes off that outside foot to accelerate to the inside. Once he creates the inside leverage he pushes the corner vertically to sell that he is running a go route. This subtle move gets the corner to flip his hips directly upfield which is exactly what Harry wants him to do. He feels the corner trailing him and takes a hard breakdown step to push his route inside, completing the dig route. The move is so hard that the corner actually falls to the ground and Harry is immediately open for this catch over the middle. You also see flashes off his run after catch ability.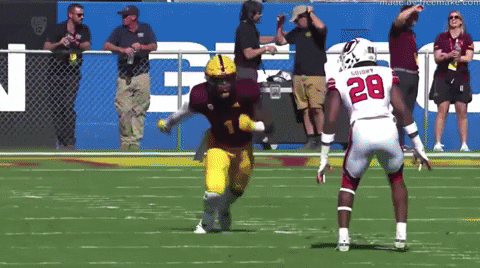 The route itself isn't to be highlighted here, but what he does at the top of it to get himself free should. He attacks the corner dead on, selling his route vertically. At the top of the route, he extends his hands to the corner's chest while simultaneously powering down, turning his head to the ball and finishing this curl route. This is considered a push-off which is a penalty in the NFL, but Harry sells it perfectly as to where the referees will have a tough time calling it. His hands are in perfect sync with his feet while turning back to the ball, making the push-off look more naturally part of the route. This is stuff that every elite receiver does, but it takes a while to master this move. Harry already has it figured out.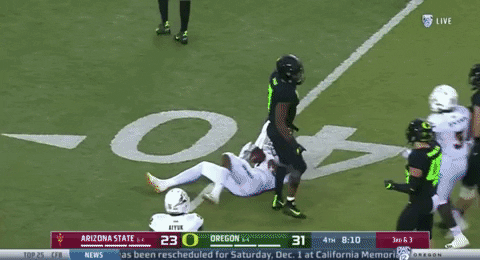 In addition to all of this, he is extremely good at setting up his routes. Throughout this game, Arizona State was running a concept where Harry just ran to the flat while the outside receiver ran a dig and Oregon was all over it. After a while, Arizona State made the adjustment and told Harry to run a double move and boy does he run it to perfection. He takes no false steps and explodes off his right foot to push upfield. This probably goes for a touchdown if the ball is thrown in stride, but either way Harry gets to show off his contested catch ability. He high points the ball and uses his large frame to block off the defender while moving back towards the ball. Great stuff all around.
Red Zone Threat
Last season, the Patriots weren't terrible in the red zone, but they sure weren't as good as they have been. Add in the fact that quite possibly the biggest red zone threat of all time in Rob Gronkowski is retired, and the Patriots were looking at an uphill climb in that department – cue N'Keal Harry.
As you already know by now, Harry is a fantastic 50/50 ball catcher, especially on back shoulder throws. You see on this play how he boxes his corner out and jumps at the last second to get to the ball before the defender can. This is a throw and catch that Tom Brady and Rob Gronkowski both made a living off of during their tenure together and I assume Harry will see a lot of these balls when the Patriots are in the red zone.
Not only can Harry grab the back shoulder throws, he can also beat you in other ways. Here he sets the route up like he is going to the back shoulder he is so well known for in the red zone, but explodes off the outside foot to run a little three-step slant. The hesitation move gets the corner to bite to the back corner and Harry burns him inside for a walk in touchdown.
Harry isn't a one trick pony, he knows exactly how to beat you on almost every route and uses his physical tools to perfection. Harry could easily develop his skillset to become the ultimate weapon in the red zone for an offense that so desperately needs it.
Yards After Catch
Despite his lack-luster forty-yard dash time and relatively underwhelming agility score, Harry is a RAC monster.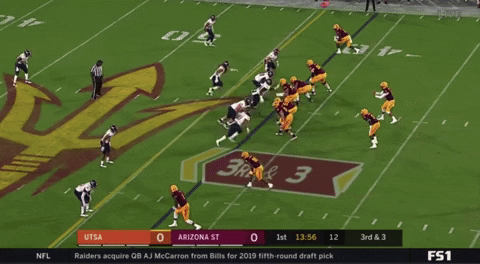 On this screen play, Harry shows the awareness necessary to feel a defender bearing down on him and immediately spins after the reception to make himself harder to tackle. He keeps his eyes downfield is able to find the open space to break away for this touchdown.
Harry isn't going to outrun everyone on every play, but his large and powerful frame isn't easy to bring down in space – as you see here.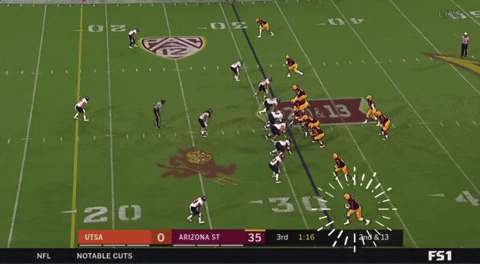 Much like the last screen play, Harry catches the ball and has the instincts to sidestep the defender immediately. After this, he reads the flow of the defense and where his blocks are coming from and reverses field. He's not the same type of YAC threat as someone like Tyreek Hill, but he has just enough elusiveness and a high IQ in knowing exactly where to go.
Now, I am not naive enough to think that Harry will be able to execute this type of play at the NFL level, but he still holds the necessary traits to be able to create yards for himself after the catch. This ability to run after the catch is huge for the Patriot offense that likes to use screens and quick passes to dictate the pace of their offense.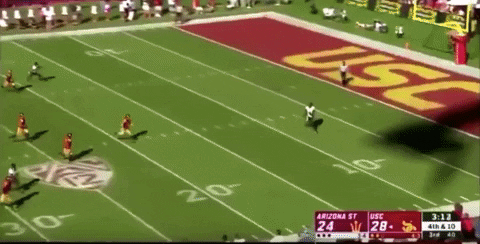 Out of all the things I discussed above, this was probably the selling point for Belichick. The guy has a background playing SPECIAL TEAMS. We all know how much Bill loves his special teams players, and Harry can do just that. Not only can he catch 50/50 balls or box out defenders in the red zone, but Bill can call on him to return punts if need be. All jokes aside, Harry has the potential to become a complete player and not just a wide receiver on this roster.
To close things up, I think Harry is exactly what the Patriots needed to help bolster their receiving core. People wanted D.K. Metcalf, but the Patriots already have (hopefully) Josh Gordon on the roster. People wanted A.J. Brown, but the Patriots already have Julian Edelman on their roster. Don't get me wrong, both those players are really good in their own right, but Harry makes more sense. He is the only receiver they have with that skillset and stature, and I am sure they are going to come up with creative ways to use him.
Sure, Harry isn't as good of a separator as D.K. Metcalf and not as shifty as A.J. Brown, but he does a bunch of things at an above-average level opposed to those guys who do one or two things at an elite level. That is something that can't be taken for granted and is something that I know the Patriots put extreme emphasis on.
Like I said earlier, the Patriots are looking for high floor players that can succeed in a multitude of different ways in their ever-changing offense. Harry is the perfect guy for that.
To close things off, here is a video of N'Keal Harry shattering a backboard in high school. Enjoy.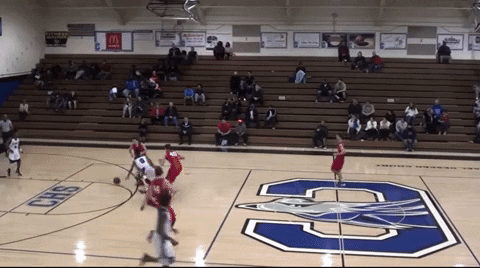 Welcome to New England, N'Keal Harry. Let's get to work.