25. Navy Midshipmen (8-2)
Navy defeated SMU 35-28 who was previously ranked 25th in the country. Led by their tradition option attack, Navy ran for 378 yards. Quarterback Malcolm Perry also threw for 162 yards and a touchdown. For a team that pounds the ball down the field with that option attack, throwing for over 150 yards is a great game in the passing department. Navy is now surprisingly 8-2 but is still in second in the AAC West. Memphis handed them the first loss of their campaign and find themselves tied for first. They need to beat Houston and hope Memphis loses to Cincinnati next week to get into the AAC Championship.
24. Appalachian State Mountaineers (10-1)
Appalachian State beat Texas State 35-13 to improve to 10-1 and they now have had back-to-back 10-win seasons. This is an amazing accomplishment for a program that just moved up to the FBS level in 2014. Appalachian State beat both "Power Five Conference" teams they played this year in North Carolina and South Carolina. They are on top of the Sun Belt East and are the only team ranked in the conference. They should be able to win the Sun Belt, but they would need some help in order to make a New Year's Six bowl.
23. USC Trojans (8-4)
USC moved into the CFP top 25 last week for the first time last week. They beat UCLA 52-35 last week behind freshman quarterback Kedon Slovis. Slovis threw for 515 yards and four touchdowns to take down their rival UCLA. They still have a chance to make the PAC-12 Championship game, but they need Utah to lose to Colorado. The Trojans are on a three-game winning streak beating, Arizona State, Cal, and UCLA since losing to Oregon.
22. Iowa State Cyclones (7-4)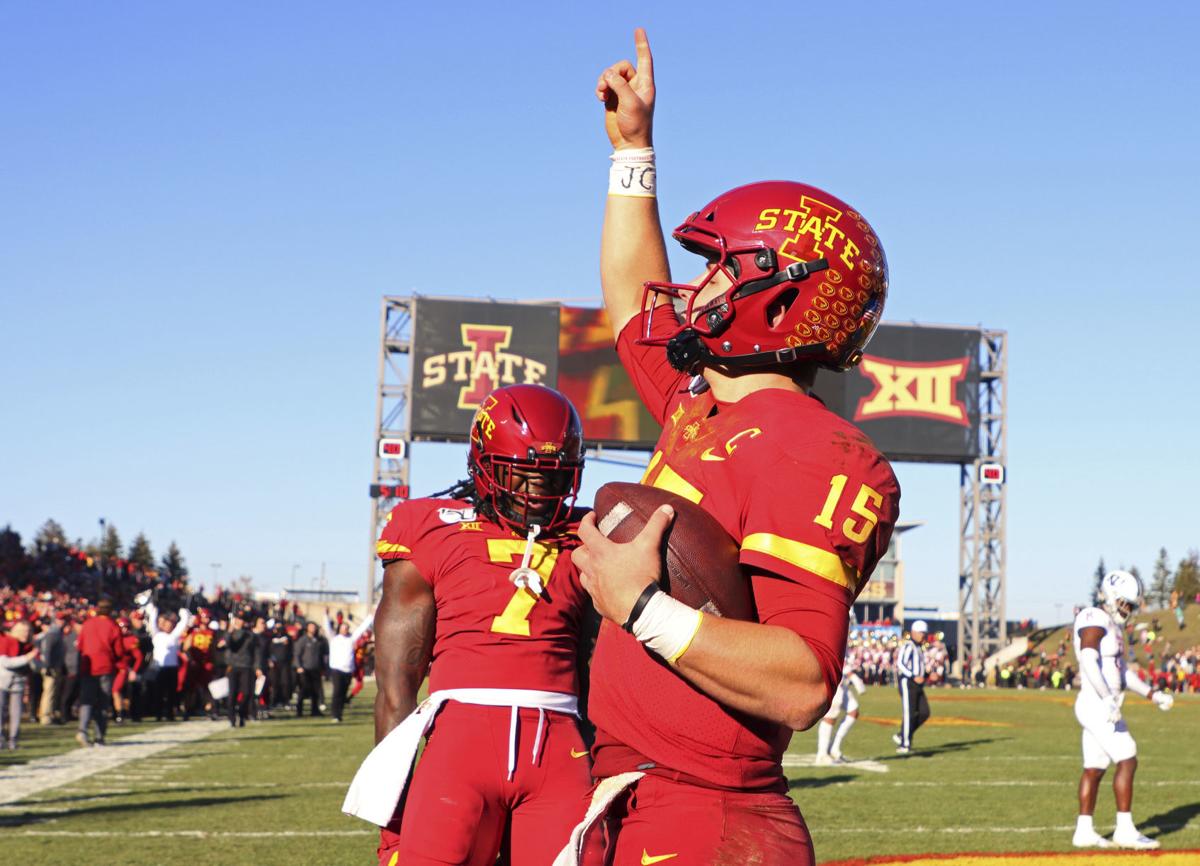 Iowa State beat Kansas 41-31 last week. They moved into the CFP top 25 for the first time last week after beating Texas. The Cyclones have also responded well to the loss to Oklahoma three weeks ago. They can't make the Big 12 Championship because they are two games back of both Oklahoma and Baylor. If they can beat Kansas State next week, an eight-win would be positive for the Cyclones.
21. Oklahoma State Cowboys (8-3)
Chuba Hubbard and co. went into West Virginia and beat them 20-13. Hubbard ran for 106 yards and is a dark-horse contender to make it to New York for the Heisman ceremony. The Cowboys have not lost in a month and they riding that hot streak into their last game against their hated rivals, Oklahoma. They would want nothing more than to beat the Sooners and ruin their playoff hopes. This game is pretty much their national championship. If they want to win this game they need feed Hubbard, which they most likely will, which is no secret.
20. Boise State Broncos (10-1)
Boise State has qualified for the Mountain West Championship game against Hawaii in early December. But they will want to take care of business against Colorado State to finish with one loss and have an opportunity to make a New Year's Six Bowl game. The Broncos have been the model "Group of Five Conference" team this century and they have gotten as high as four in 2009. They won't get up to four this year but led by freshman quarterback Hank Bachmaier, the future is bright for the Broncos.
19. Cincinnati Bearcats (10-1)
Cincinnati snuck by Temple 15-13 with a blocked extra point returned for a touchdown being the difference in the game. Quarterback Desmond Ridder struggled only going 9-25 with 62 passing yards and an interception. The passing attack will need to improve to beat keep up with the high-powered offensive attack of Memphis. They have already qualified for the AAC Championship game but Memphis is first in the AAC West, so it is possible that they could face-off in the championship game in a few weeks. If they want to be in a New Year's Six bowl, they need two more wins.
18. Memphis Tigers (10-1)
Memphis has scored over 40 points in the last five games, all wins. They just beat USF 49-10 and held USF quarterback Jordan McCloud to 45 yards passing and a 3.4 QBR. Memphis racked up 560 total yards and scored 42 unanswered points. Memphis is coming in red hot to the last week of the season to play Cincinnati in a Black Friday showdown. Memphis is the highest-ranked Group of Five teams and all they need to do is win out to make the New Year's Six, but that is way easier said than done.
17. Iowa Hawkeyes (8-3)
Iowa beat Illinois 19-10 in a hard-fought, defensive game. They settled for four field goals, including two in the fourth quarter to put Illinois away. The only time either of these teams scored touchdowns in the game was in the first quarter. The Hawkeyes play an underwhelming Nebraska team in the last game of the year. 9-3 would not be a down year for Iowa but they need to go into the hostile environment of Nebraska to do so.
16. Auburn Tigers (8-3)
Auburn was ranked at 15 last week, but with Notre Dame's blowout win over Boston College puts them ahead. Auburn played Samford who play in the FCS. The committee should penalize them for playing a cupcake team like Samford a week before Alabama. Next week, they will want to beat Alabama and keep them out of the playoff. They need a good running game to keep Bo Nix calm. Both Derrick Brown and the Auburn defense need to put the pressure on Mac Jones to keep him raddled in that hostile environment.
15. Notre Dame Fighting Irish (9-2)
The Irish are finally playing up to their potential and smoked Boston College 40-7. Ian Book threw for 239 yards and three touchdowns while also leading the team in rushing with 68 yards. Irish fans are praying that Ian Book returns for his final season because he has shown flashes of the quarterback that took over for Brandon Wimbush last season. Notre Dame needs some help to make it to a New Year's Six Bowl but if Book stays at school next year, this team could be very good. The Irish will look to beat Stanford and get another 10-win season.
14. Oregon Ducks (9-2)
Oregon is OUT of the College Football Playoff race after an embarrassing defeat in Tempe, Arizona to Arizona State. Oregon fell behind Arizona State 24-7 in the fourth quarter and the late rush by Oregon was not enough. They ended up losing 31-28 in a game that was not as close as the score suggested. Justin Herbert threw two interceptions, both in the second half that helped Arizona State spread out the lead. They can still beat their rivals Oregon State and win the PAC-12 which would still be a good season. But their playoff hopes have been put to rest.
13. Baylor Bears (10-1)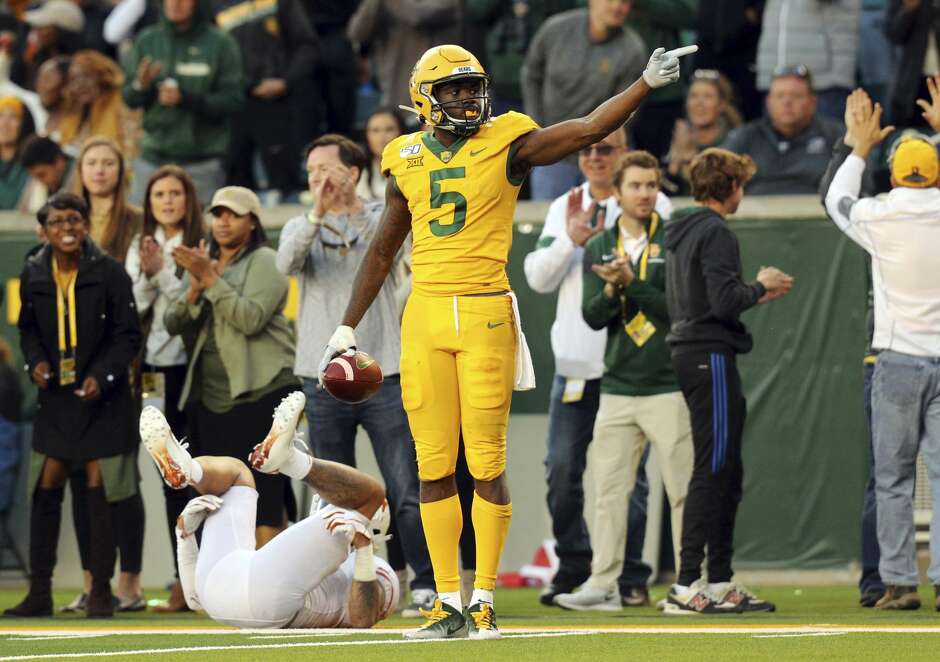 After blowing a 28-3 lead to Oklahoma, Baylor beat Texas 24-10 to clinch a spot in the Big 12 Championship and a rematch with Oklahoma. Their playoff hopes are still somewhat alive but they are going to need some help. If they can resurrect their loss to Oklahoma by beating them again in the Big 12 Championship. They need to beat Kansas in order to keep their CFP chances alive.
12. Michigan Wolverines (9-2)
Michigan has looked REALLY good since the loss to Penn State, rattling off four straight wins. They have beaten Notre Dame, Maryland, Michigan State, and Indiana by a combined score of 166-45. The Wolverines are on a hot streak going into their game against Ohio State. Their playoff hopes are done because of the bad start they had, but ruining Ohio State's playoff hopes would be a huge win for Michigan. It will not be easy to beat Ohio State in Columbus but they are playing some of their best ball this season.
11. Wisconsin Badgers (9-2)
Wisconsin beat Purdue 45-24 led by Jonathan Taylor, who ran for 222 yards and a touchdown. Since losing back-to-back games to Illinois and Ohio State, they have won three straight, including a win over Iowa. They travel to Minnesota to play for a place in the Big 10 Championship game. It will not be easy to go win there but Jonathan Taylor and the rushing attack will need to be great to beat Minnesota.
10. Florida Gators (9-2)
Florida had a bye week last week and play Florida State at home this week. Florida State has beaten Florida at home four times in a row. There is not much left for Florida to play for as they have two losses and are out of the SEC Championship and College Football Playoff picture. A 10-win season would be a success for the Gators but they had hopes of winning the SEC.
9. Penn State Nittany Lions (9-2)
Penn State fell short of beating Ohio State last week, losing 28-17. They fell into a 21-7 hole early on in the game and even though they scored 17 unanswered with their backup quarterback Will Levis, it still was not enough to overcome the deficit. Penn State will now look to beat the worst team in the Big 10 Rutgers and finish the season with 10 wins. This season put Penn State back on the map and they could soon be back on top.
8. Minnesota Golden Gophers (10-1)
Minnesota did what they had to do in beating Northwestern 38-22. They are not fully out of the College Football Playoff picture but their chances are slim. They need to beat Wisconsin next week, then they need to beat Ohio State in the Big 10 Championship game. That is two huge games for them especially if they win both. They will be in the playoff no questions asked. Lose one and they are done. The play of Tanner Morgan will be important in these next two games. If he can be effective, the rushing attack will open up and with the talent in the backfield they have, the Gophers can be tough to stop.
7. Oklahoma Sooners (10-1)
Oklahoma beat TCU 28-24 led by the legs, not the arm, of Jalen Hurts. Hurts ran for 173 yards and two touchdowns and he only threw for 145 yards and two touchdowns. The Sooners defense held TCU quarterback Max Duggan only 65 yards and an interception. Oklahoma is very much alive in the playoff picture but they can't afford any slip-ups against Oklahoma State and Baylor. Hurts needs to keep up with his strong play throughout the season to lead his Sooners to the playoff.
6. Utah Utes (10-1)
Utah is the last PAC-12 team with a shot at the playoffs. They beat Arizona 35-7 and they are playing their best right now. They play Colorado next week, which is a very winnable game, and if they can win that game, a showdown with Oregon in Santa Clara for the PAC-12 Championship game will decide if they have a case at the playoff. Georgia and LSU are ahead of them, but one has to lose and Alabama will not be in the SEC Championship. They are still right in the thick of it and Utes have a great chance of making their first CFP appearance.
5. Alabama Crimson Tide (10-1)
Alabama beat Western Carolina in the annual SEC cupcake week. This was an important game for backup Mac Jones because he needed some game experience before the Iron Bowl next week against Auburn. Jones threw for 275 yards and three touchdowns and only threw 12 passes. With no opportunity to make the SEC Championship, they need to put a pretty good beating on Auburn next week to prove to the committee that they are good enough to make the playoff. If they barely win, it may not be enough to show the committee that they are good enough.
4. Georgia Bulldogs (10-1)
Georgia just got by Texas A&M winning 19-13. Jake Fromm struggled in this game going 11-23 with 163 yards and one touchdown. The rushing defense of Georgia made a huge difference giving up -2 yards. The play of Jake Fromm needs to improve if they want to win the SEC and make the playoff. They first need to beat their in-state rival Georgia Tech, and rivalry games are never easy.
3. Clemson Tigers (11-0)
Clemson had the week off and took the week to prepare for in-state rival South Carolina. Clemson has played a pretty weak schedule, with their best win being over Texas A&M earlier in the season. But the defending champions are undefeated and if they win the next two, they will be in. If they lose to either South Carolina or the representative from the ACC Coastal, there could be a case for them being out of the playoff because of their weak schedule, and the committee could put a one-loss Alabama or another conference champion in that have played a good schedule.
2. Ohio State Buckeyes (11-0)
Ohio State played well in their 28-17 win, but mistakes kept Penn State in the game. Other than that, they have blown everyone out. They do have to play a red hot Michigan team next week at home, which will be no easy task. If the play of Justin Fields, J.K. Dobbins and Chase Young stays at Heisman level, there may be no team in the country that can beat the Buckeyes.
1. LSU Tigers (11-0)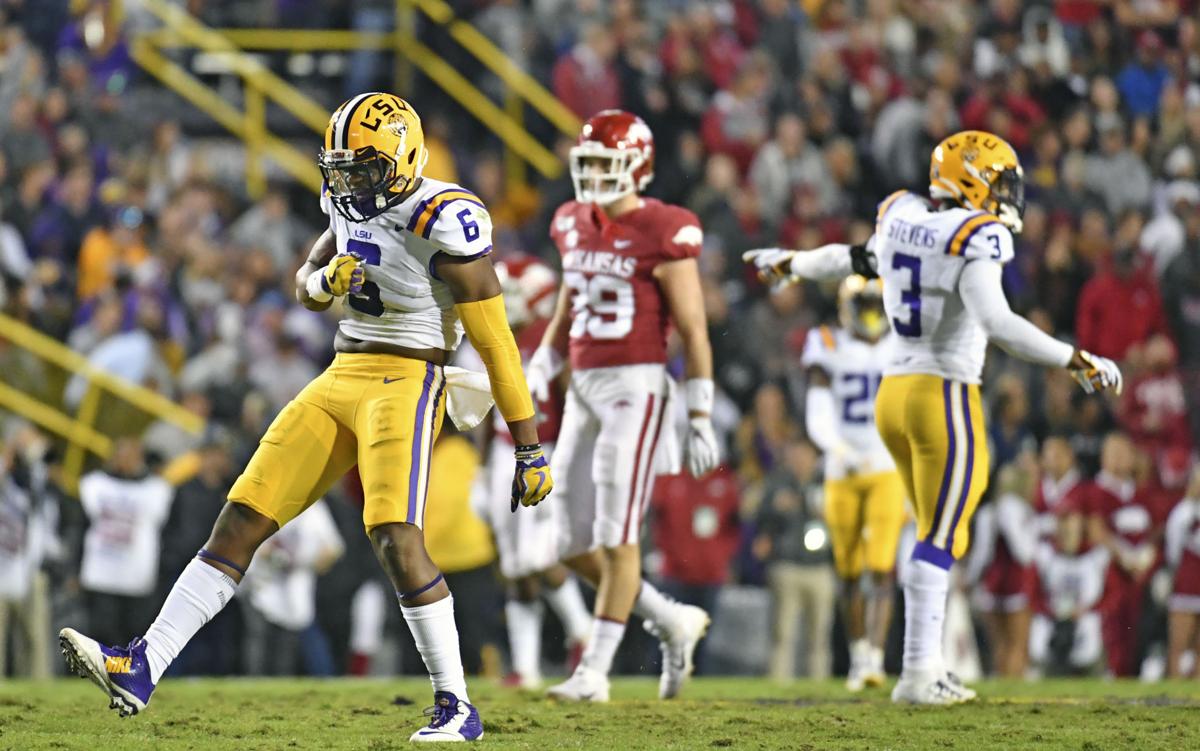 LSU showed their struggles on defense again in their 56-20 win over Arkansas. There will be no celebrating with a win over a horrible Arkansas team, but there will be concerns over their defense in the coming weeks. Joe Burrow has been undoubtedly the best quarterback in the country and will most likely win the Heisman. Also, Clyde Edwards-Helaire has been really turning it on in recent weeks, rushing for 172 yards and 188 yards in the past two games. LSU should be able to beat Texas A&M next week and the SEC Championship game against Georgia will be close. LSU could even get into the playoff anyway even with a loss against Georgia in the SEC Championship.