25. Virginia Tech Hokies (7-3)
Virginia Tech has won five out of their last six, only losing by one point against Notre Dame in South Bend.  The Hokies have looked strong since losing to Notre Dame, beating formerly ranked Wake Forest 36-17 and Georgia Tech 45-0.  Virginia Tech is tied for first in the ACC Coastal and a showdown with Clemson in the ACC Championship is still within reach.  The other two teams tied with them are Virginia and Pittsburgh, who are the last two teams they play this season. The Hokies still have a lot to play the rest of this season.
24. Texas A&M Aggies (7-3)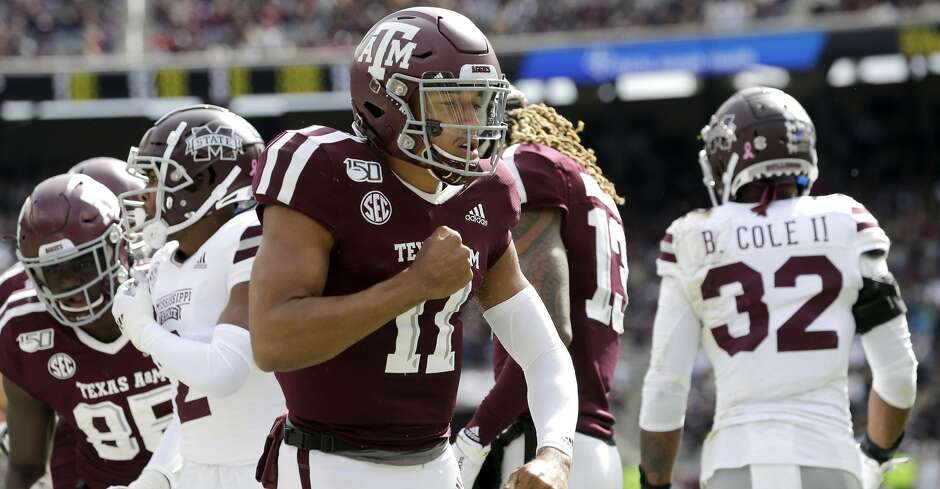 Texas A&M's only three losses were against Clemson, Auburn, and Alabama. All three of them are ranked in the top 20 in the country.  The Aggies looked good last week beating South Carolina 30-6. The next two weeks for this team is not easy. At. All. They have to go to both Georgia and LSU, the two teams who will likely be meeting in the SEC Championship. It wouldn't be a surprise if the Aggies had a short stay in the top 25.
23. SMU Mustangs (9-1)
SMU did not place in the top 25 last week and did not play this week but they still should get some more respect than the committee is giving them. They are 9-1 and the only loss they had was against Memphis, who is also 9-1. They are tied with Memphis for the lead in the AAC West with Memphis. It does not make much sense as to why they were not ranked last week.  They have put up more than 30 in every game this season. Their only concern has been the defense this year, as they have only given up less than 20 once. I guess it is fitting that they are looking to join the Big 12 soon.
22. Appalachian State Mountaineers (9-1)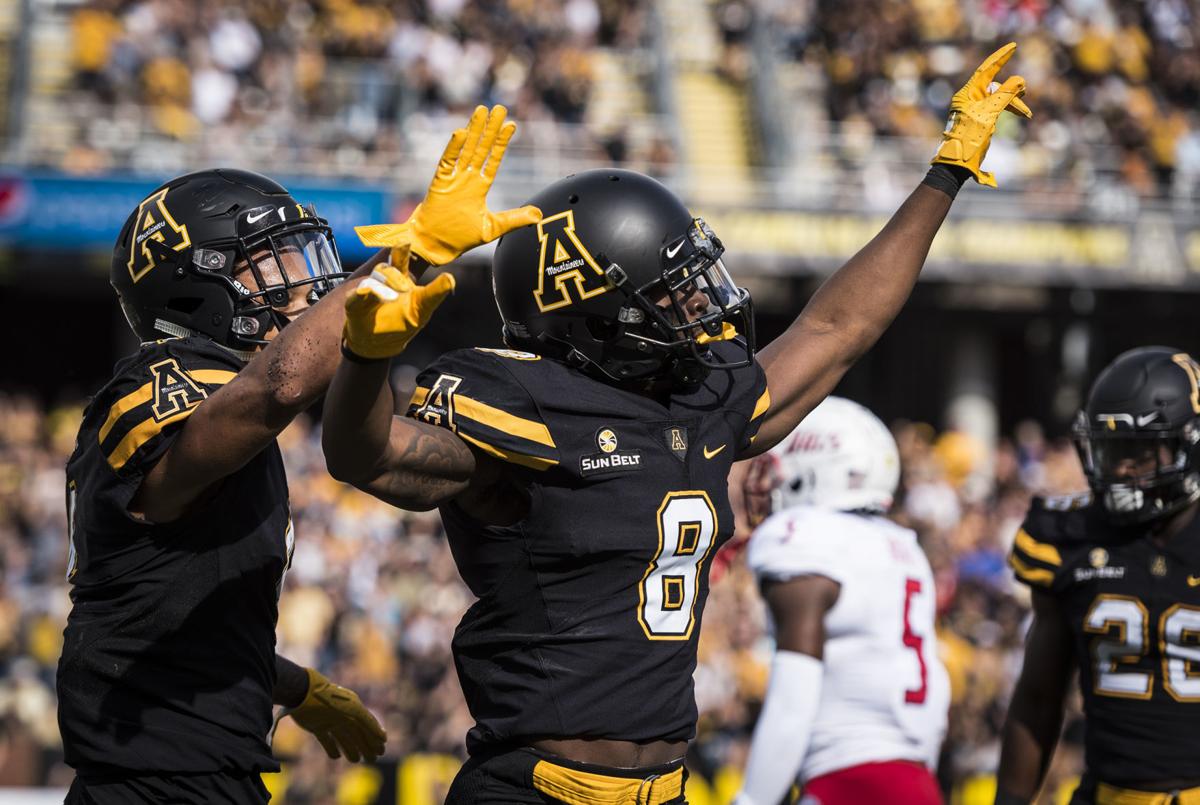 The Mountaineers have won back-to-back games since falling to Georgia Southern ending their dream of a perfect season.  They beat Georgia State last week 56-27 but their quarterback played the game coming off a torn ACL last week, yes you read that correctly. So it was pretty much a given that Georgia St. wouldn't have much of a passing game, but a win is a win. The Mountaineers are looking to close out their division and win the Sun Belt, potentially making a case for a New Year's Six bowl bid.
21. Oklahoma State Cowboys (7-3)
Oklahoma State is on a three-game winning streak which has been led by running back Chuba Hubbard.  Hubbard has scored five touchdowns in the past three games and has established himself as a quiet Heisman contender.  In order to make the Big 12 Championship, the Cowboys will need to win out, including a win over Oklahoma in the last week of the season.  Before that big game, they have West Virginia, who has been struggling this season.
20. Boise State Broncos (9-1)
Boise State has responded well since their loss to BYU four games ago.  They have won their last three and are still undefeated in their conference.  After coming off a strong win over New Mexico, the Broncos play Utah State this week who is one game back of them in the Mountain West.  Their next game will go a long way in deciding who wins the Mountain West "Mountain" division. If Boise State wants to keep the division in their control, this next game is a must-win.
19. Iowa Hawkeyes (7-3)
Iowa ended Minnesota's undefeated season and the annual win against a top-seven team at Kinnick Stadium continues.  There isn't a team in the country that wants to play the Hawkeyes at Kinnick at night with their great season on the line.  They led 14-0 at halftime and Minnesota could not come back from that deficit. The Hawkeyes still play Illinois and Nebraska so they should end the season at 9-3 and find themselves in a decent bowl game.
18. Memphis Tigers (9-1)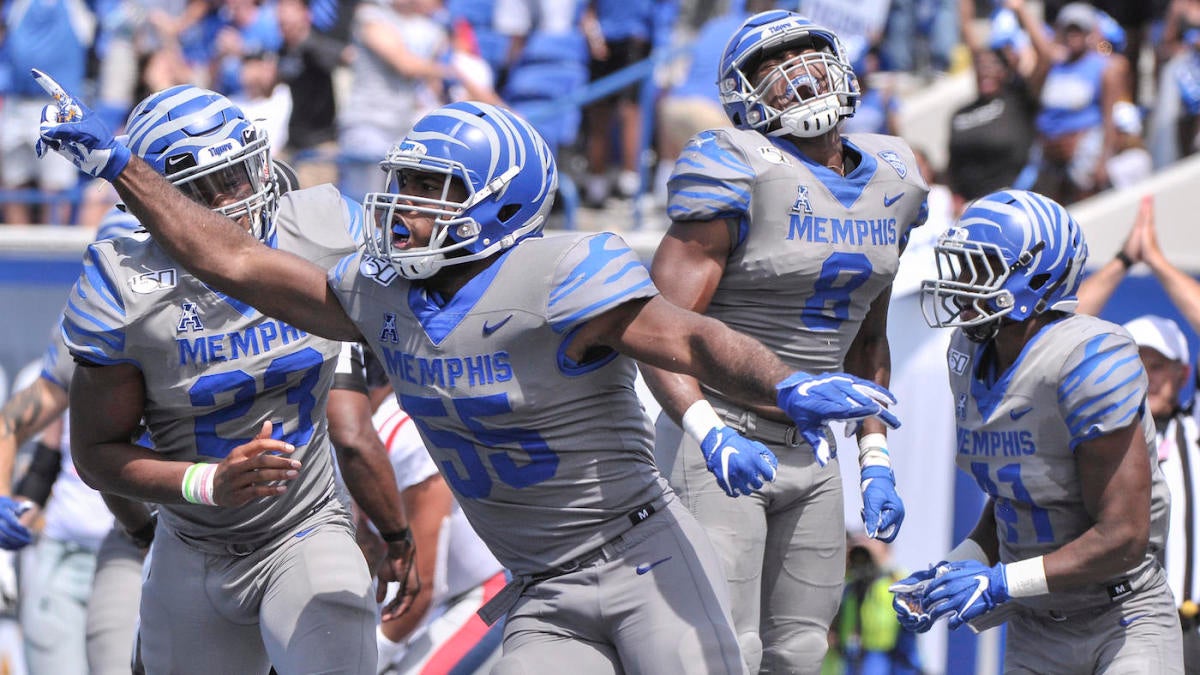 Memphis are on a four-game winning streak with their latest victory coming over Houston 45-27.  Junior quarterback Brady White threw for 341 yards with five touchdowns and led his team to the win.  The Tigers are in control of their own destiny as they have the tiebreaker over SMU, who they beat a few weeks ago. They play USF next week and then end their season with Cincinnati, who is leading the AAC East.  Memphis needs these last two games to keep their hopes of a New Year's Six bowl bid alive.
17. Cincinnati Bearcats (9-1)
Cincinnati is riding high on an eight-game winning streak.  Their only loss has been to Ohio State, who has been burying teams recently.  They just squeaked out a 20-17 win over South Florida outscoring them 20-7 in the second half and their kicker Sam Crosa knocked a 37-yard field goal through the uprights as time expired.  They found a way to win and if they can win against Temple next week, they will clinch the AAC East title.
16. Auburn Tigers (7-3)
Auburn lost to Georgia last week 21-14 and they put themselves into a 21-0 hole too early on.  Freshman quarterback Bo Nix could not replicate his magic that he had earlier in the year against Oregon.  They are out of the SEC Championship race and they have to play Samford in the annual SEC cupcake week and then Alabama in the Iron Bowl. Auburn is going to really want to end Alabama's run to the playoffs and that is really all they have left to play for. Head coach Gus Malzahn is possibly coaching for his job the rest of the way and if he loses his job, it could be an interesting offseason for the Auburn Tigers.
15. Notre Dame Fighting Irish (8-2)
Notre Dame undoubtedly played their best game this season beating formerly ranked Navy 52-20. Quarterback Ian Book threw for five touchdowns with four going to Chase Claypool. Many Irish fans were left wondering where this performance was against Georgia and Michigan.  The Irish still have Boston College and Stanford left to play and if they want to make a New Year's Six bowl, these next two are must-win games.
14. Michigan Wolverines (8-2)
Michigan best their rival and "little brother" Michigan State 44-10 last week but their blowout loss to Wisconsin earlier in the year really prevents them from being higher in the rankings.  It has been a down year for the Wolverines but they still have a good Indiana team and Ohio State left to play. It won't be easy to finish off the season with 10 wins but that's the expectation for this team.  They can hurt the chances of their biggest rival Ohio State making the College Football Playoff which would be a huge win for them. Harbaugh might need the 10 wins to keep his job and if he doesn't and he loses badly to Ohio State, his seat could be red hot.
13. Wisconsin Badgers (8-2)
Wisconsin is back on track after a two-game losing streak ended their College Football Playoff hopes. They beat Iowa and Nebraska in back-to-back weeks and now find themselves one game back of Minnesota in the Big 10 West.  They still have to play Purdue and Minnesota, which could be for the Big 10 West Championship, which could set them up for a rematch against Ohio State in the Big 10 Championship.
12. Baylor Bears (9-1)
Baylor pulled off their best Atlanta Falcons impression last week blowing a 28-3 lead to Jalen Hurts and Oklahoma, eventually losing 34-31.  Even with a strong performance by quarterback Charlie Brewer in the first half, the Bears couldn't hold off the Oklahoma offense. Even though they still have one loss, there might not be any chances for Baylor to make it back to the College Football Playoff, given their recent history which shouldn't be a factor, but it is. Baylor has also won a lot of close games this season which hurts their case for the playoff. They need to beat their next two opponents are Texas and Kansas. If they want a chance at the Big 12 Championship game and the College Football Playoff, they need to win and look good the rest of the way. Baylor was ranked 13th last week, but given the teams behind them, there is really nowhere else to go but up.
11. Florida Gators (9-2)
A 14 point third quarter helped push the Florida Gators ahead of Missouri to beat them last week 23-6.  The Gators who are sitting 9-2 and pretty much out of the SEC Championship race, unless Georgia collapses.  The Gators will be trying to win their last game against a sad Florida State to make a case for the New Year's Six.  Their only losses have been to LSU and Georgia so this year has been positive for the Gators, given they were not favored in either of those games.
10. Penn State Nittany Lions (9-1)
Penn State took care of business last week beating Indiana 34-27.  Although winning last week, they still could drop a spot from nine to ten because Minnesota beat them and the committee takes that into account. Penn State has been very good this year and is on their way back from the setback from the Jerry Sandusky case a few years back.  They still have to play Ohio State and Rutgers. They must win out to have a shot at the Big 10 Championship.
9. Minnesota Golden Gophers (9-1)
Minnesota fell to Iowa last week effectively ending their run at the College Football Playoff.  They fall in the same position as Baylor being looked at more for past success rather than this season. It took a while for the committee to respect Minnesota but the respect got thrown out the window this week with the loss to Iowa. This won't be the end for P.J. Fleck and Minnesota however. They are still in the lead in the Big 10 West and if they do beat Ohio State in the Big 10 Championship, they could get that respect back.
8. Oklahoma Sooners (9-1)
Oklahoma came back from 28-3 down to beat previously undefeated Baylor 34-31 and take the lead in the Big 12.  The Sooners came back from their embarrassing defeat to Kansas State earlier in the year. With this win, they are now back in the College Football Playoff conversation and could have a strong case to make it in if they can beat their last two opponents, TCU and Oklahoma State.  The road is becoming clearer and clearer each week with teams losing ahead of them.
7. Utah Utes (9-1)
Utah dismantled UCLA last week with a 49-3 win last week. The Utes have won seven straight and the early season loss to USC is becoming the distant past now. Now they have everything to play for including the College Football Playoff. This could be the year the PAC-12 gets a team back in the College Football Playoff with both Utah and Oregon. If Utah can beat both Arizona and Colorado, they could play Oregon in the PAC-12 Championship for a place in the College Football Playoff.
6. Alabama Crimson Tide (9-1)
Alabama beat Mississippi State last week 38-7 getting back on track after their home loss to LSU.  But this win felt more like a loss for the Tide with star quarterback Tua Tagovailoa going down with a season-ending and hopefully not career-ending hip injury. Tua was still in the game when Alabama was up 35-7 with an ankle injury already which was a controversial decision by Nick Saban. Now with Tua out, Mac Jones will have to take over and try to push this team to the playoff. The committee will most likely drop the Crimson Tide down the polls because of the injury to Tua because of how crucial he is to the team's success. Now even if Alabama beats both Western Carolina and Auburn, the playoff may be out of reach for them for the first time.
5. Oregon Ducks (9-1)
Oregon could benefit off the injury of Tua Tagovailoa and go above Alabama in the polls. They beat Arizona 34-6 last week and it is starting to look like if the Ducks can win out they have a great chance of making the playoff. They have two SEC teams ahead of them and one of them will lose to the other. So if they win out, they have a great chance of making the playoff. They locked up the PAC-12 North with Arizona State and Oregon State left to play. It is looking like they will face off against Utah for a chance at the playoff.
4. Georgia Bulldogs (9-1)
Georgia raced ahead of Auburn 21-0 and they ended up winning 21-14.  They were ranked as the best one-loss team in the country and that win over Auburn only made their case stronger. The Bulldogs have pretty much locked up the SEC East and will most likely be playing LSU in the SEC Championship for a spot in the College Football Playoff. They can no longer slip up if they want to make it.
3. Clemson Tigers (11-0)
Clemson beat their best in-conference opponent Wake Forest 52-3. Trevor Lawrence is back on track and has been playing well in recent games, which is crucial to Clemson's success this season. Their last game is an away game against South Carolina, who already beat Georgia this season. If they lose one game, it could knock them out of playoff contention because of their weak schedule. But the committee won't keep an undefeated Clemson out of the playoff, so they control their own destiny.
2. Ohio State Buckeyes (10-0)
Ohio State beat Rutgers 56-21 in a game that was never really close. They have never really been in a close game all season but they have two humongous games coming up against Penn State and Michigan. These next two, most likely will not be as close as previous games for the Buckeyes.  They have been brilliant this season and there looks to be no sign of slowing down for this team. There is everything left to play for and they could be a near-lock for the playoff given how well they have played all season.
1. LSU Tigers (10-0)
LSU beat Ole Miss 58-37 in a game where their offense looked very strong and their defense struggled. The struggles on defense could be a cause for concern in the future, however, their next two games shouldn't challenge them that much. They play Arkansas and Texas A&M, two games they can win. Quarterback Joe Burrow has been sensational this season and he is going to be the X-factor for them going down the stretch. If LSU can take care of business the rest of the way, they will be number one and play the four seed in the playoff.