The College Football Playoff is finally here.  After a long season, the final four teams are LSU, Ohio State, Clemson, and Oklahoma.  Three out of the four teams are undefeated, and Oklahoma has only one loss all season, which came against Kansas State earlier this season.  Each team is led by a superstar quarterback on offense, one being Heisman winner Joe Burrow from LSU. Ohio State quarterback Justin Fields and Oklahoma quarterback Jalen Hurts made it to the Heisman ceremony as well.  Trevor Lawrence led the Clemson Tigers to a national championship as a freshman last season. All four of the teams are very good, but what should you watch for on Saturday?
Peach Bowl: 1. LSU Tigers vs. 4. Oklahoma Sooners
1. LSU Tigers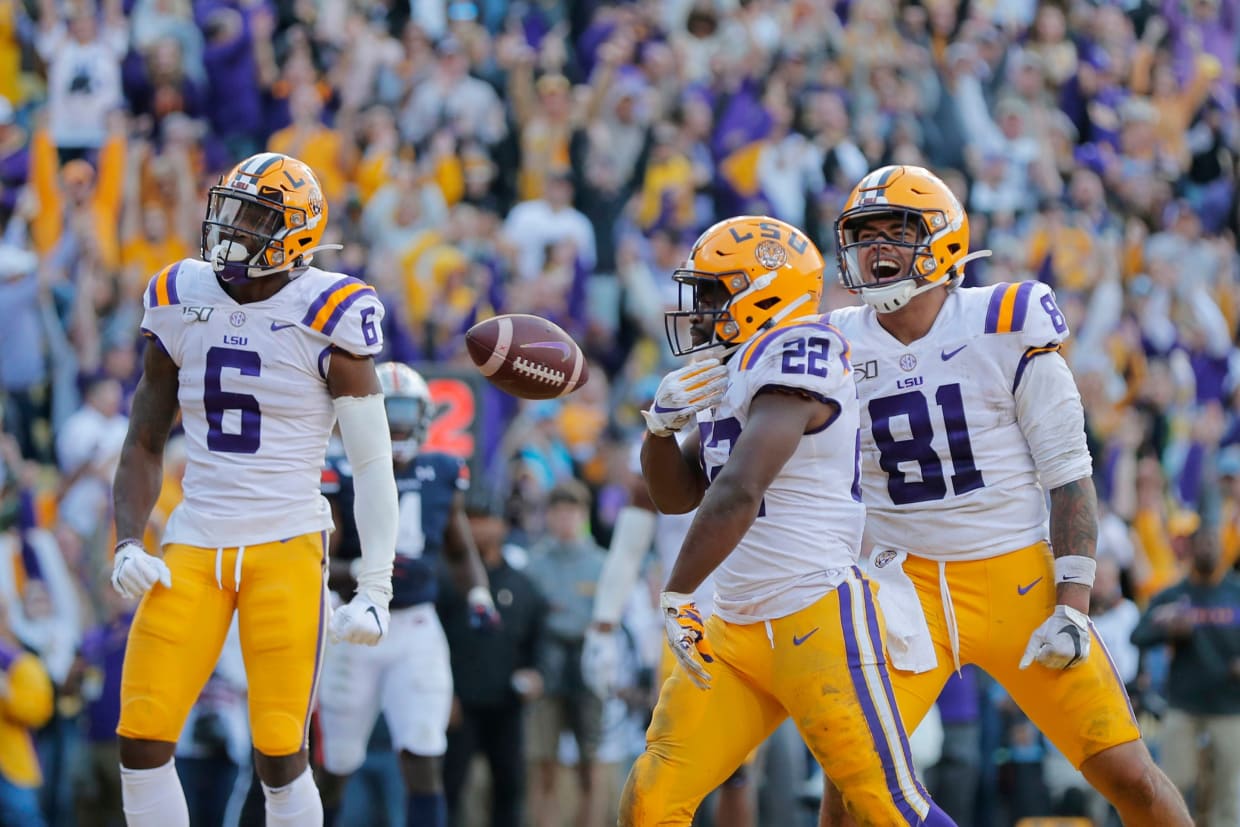 What Makes LSU the Best Team in the Country?
LSU has a special offense that has helped them to an undefeated season.  Joe Burrow has been sensational this year throwing for 48 touchdowns and six interceptions.  He also has his dangerous tandem of receivers to thank. Ja'Marr Chase and Justin Jefferson have combined for 2,705 receiving yards and 32 touchdowns.  
The Tigers have also played four top 15 teams and beat them all, including Alabama in Tuscaloosa, Auburn, Florida, and Georgia in the SEC Championship game.   Ed Orgeron and his Tigers are battle-tested and they have a high-power offense at their disposal. They have the best offense in the country and the best player in the country.
LSU's Weakness
Their weakness is their defense.  One of the only bright spots this season has been the play of true freshman Derek Stingley Jr.  Stingley has a team-high six interceptions this season, three more than anyone else. However, the issues have outweighed the good play of probably the best freshman in the country.  Safety Grant Delpit was touted as one of the best players in this year's draft class and was projected as a sure-fire top-five pick this year. Injuries have held Delpit back all season and he only has two interceptions and 56 tackles.  He has played in 12 games, but he has been playing hurt all season.
On top of Delpit's injury issues, the defense has been shaky all around this year.  They give up an average of 341.3 yards per game, which is the most out all four playoff teams.  They also give up 5.04 yards per play, which is only ahead of Oklahoma out of the playoff teams.  The only thing holding this team back is their defense and it has been a worry for LSU fans. The offense is surely good enough to win a national championship, but the defense may not be at a championship level, compared to other defenses in the Playoff. 
Under The Radar Player to Watch: Clyde Edwards Helaire
Edwards-Helaire has been solid all season.  He has run for 1,290 yards, averaging 6.5 yards per carry with 16 touchdowns.  He has flown under the radar for the Tigers mainly because of the explosive passing game, but Edwards-Helaire can be extremely effective out of the backfield.  He has also caught 50 passes for 399 yards and a touchdown and has been a dual-threat weapon coming out of the backfield. He has been garnering more attention in recent weeks after four straight 100+ yard performances, including a 188 yard, three-touchdown performance on only six carries against Arkansas.  It doesn't matter how bad the opponent is, scoring three touchdowns on six carries is very impressive. Watch for Edwards-Helaire to have a large effect on both the rushing and passing game against Oklahoma. That is if he can play.
Why LSU Will Win
LSU will win this game behind their offense.  If they can outscore Oklahoma, which they definitely can, they should be able to win this game pretty easily.  But if they start wasting possessions and allowing Oklahoma to stay in the game, LSU will be in serious trouble.  Oklahoma has nobody good enough to cover Chase and Jefferson out wide, so as long as Joe Burrow can give his guys a chance, they should be able to beat their man or get open.  Clyde Edwards-Helaire will be crucial coming out of the backfield. The run sets up play-action and if LSU can confuse Oklahoma, it will work in their favor even more.
4. Oklahoma Sooners
Why Is Oklahoma In The Playoff?
Oklahoma is in the playoff because they showed they can fight back and win.  They showed they could fight back after a loss against Kansas State in late October, not losing another game all season.  They also found themselves down 28-3 against Baylor and found a way back to win that game as well. Then, Oklahoma beat Baylor again to win the Big 12, which is the main reason why they are back in the playoff. They are the best conference champion that is not undefeated.  
Another reason why the Sooners are in the playoff is Jalen Hurts.  Hurts led this team after transferring from Alabama and threw for 3,634 yards and 32 touchdowns.  Hurts also led his team in rushing with 1,255 yards and 18 touchdowns. He is undoubtedly the leader of this team and is the X-Factor. 
Oklahoma's Weakness
The Sooners' defense is their biggest weakness.  They are a traditional Big 12 team, good offense, and bad defense.  They are 25th in total defense and 48th in scoring defense. The strength of this team is definitely not the defensive side of the ball.  Their only standout player on defense is linebacker Kenneth Murray, who has accumulated 95 tackles and four sacks this season. But he can't do it all himself in the Playoff.  
Under the Radar Player to Watch: Charleston Rambo
Rambo has been decent all season, but superstar receiver CeeDee Lamb lining up with you on offense, you probably will not get the ball as much.  But Rambo is going to be crucial in the Peach Bowl. Stingley will almost certainly stay around Lamb all game and even though he can probably get open no matter what, the tight coverage on Lamb will leave opportunities for Rambo.  Rambo has had 42 receptions for 734 yards and five touchdowns, which is a good season. With the focus on Lamb, Rambo should find himself plenty of opportunities.
Why Oklahoma Will Win
Oklahoma will win this game if and only if Jalen Hurts can have a game.  Hurts has been great this season after transferring out of Alabama, and the resilient quarterback has had his best season yet.  Hurts has accounted for 17.5 percent of Oklahoma's plays this season, including 30 percent of their run plays. He is a huge part of their offense and the Sooners live and die through Jalen hurts.  If he gets shut down, then Oklahoma has no chance at winning this game.
My Prediction
This game should be a shootout and that is what both teams want to get into.  Both offenses can sling it and they can also run through opposing defenses. Joe Burrow and the LSU offense should be able to outscore Hurts and the Oklahoma offense.  This will be a game that will come down to the last few possessions, and the first team to punt could fall too far behind. Look for the game to start out close, but the LSU defense will get the first stop and that could ultimately seal the Sooners' fate.  
LSU has the edge in this one because of their firepower on the offense, and they have more talent on defense than Oklahoma.  LSU will force the first mistake and that will win them the game.
Fiesta Bowl: 2. Ohio State Buckeyes vs. 3. Clemson Tigers
2. Ohio State Buckeyes
Why Is Ohio State In The Playoff?
Ohio State is the most complete team in college football, by far.  They had two Heisman finalists in Chase Young and Justin Fields, and another who could have been one in J.K. Dobbins.  On top of that, they have the best cornerback in the country in Jeff Okudah. They have blown out almost everybody they have played with their closest game being 28-17 against Penn State.  They have beaten Cincinnati, Penn State, Michigan, and Wisconsin twice, which are all ranked in the top 25. None of these games have really been close.
Ohio State's Weakness
There is no glaring weakness with Ohio State.  The only issue is Justin Fields' knee injury. He suffered a knee injury in the Big 10 Championship game but re-entered the game shortly after the injury occurred.  As of right now, he is not fully healthy and does not have the mobility he normally has. His mobility is a large part of his game and if that is taken away, Fields could be a bit off.
Under The Radar Player to Watch: K.J. Hill
Hill does not get as much recognition as fellow receiver Chris Olave, but he has more receptions and only one less touchdown than Olave this season.  With the tough Clemson defense on the other side, Fields is going to need to spread the ball around, and going to his favorite target Hill will be important.  K.J. Hill could get a few targets early on and if he's getting open, he will get the ball. With Fields' limited mobility, he is going to be crucial.
Why Ohio State Will Win
Ohio State will win because they are the best team in the country.  Clemson is a tough matchup for them, but they have had tough matchups coming down the stretch.  They have passed every test so far and they have with flying colors. If Chase Young can get into the game early, then Trevor Lawrence is going to be in for a very long day.  Barring a slow start, this could get out of hand.
3. Clemson Tigers
Why Is Clemson In The Playoff?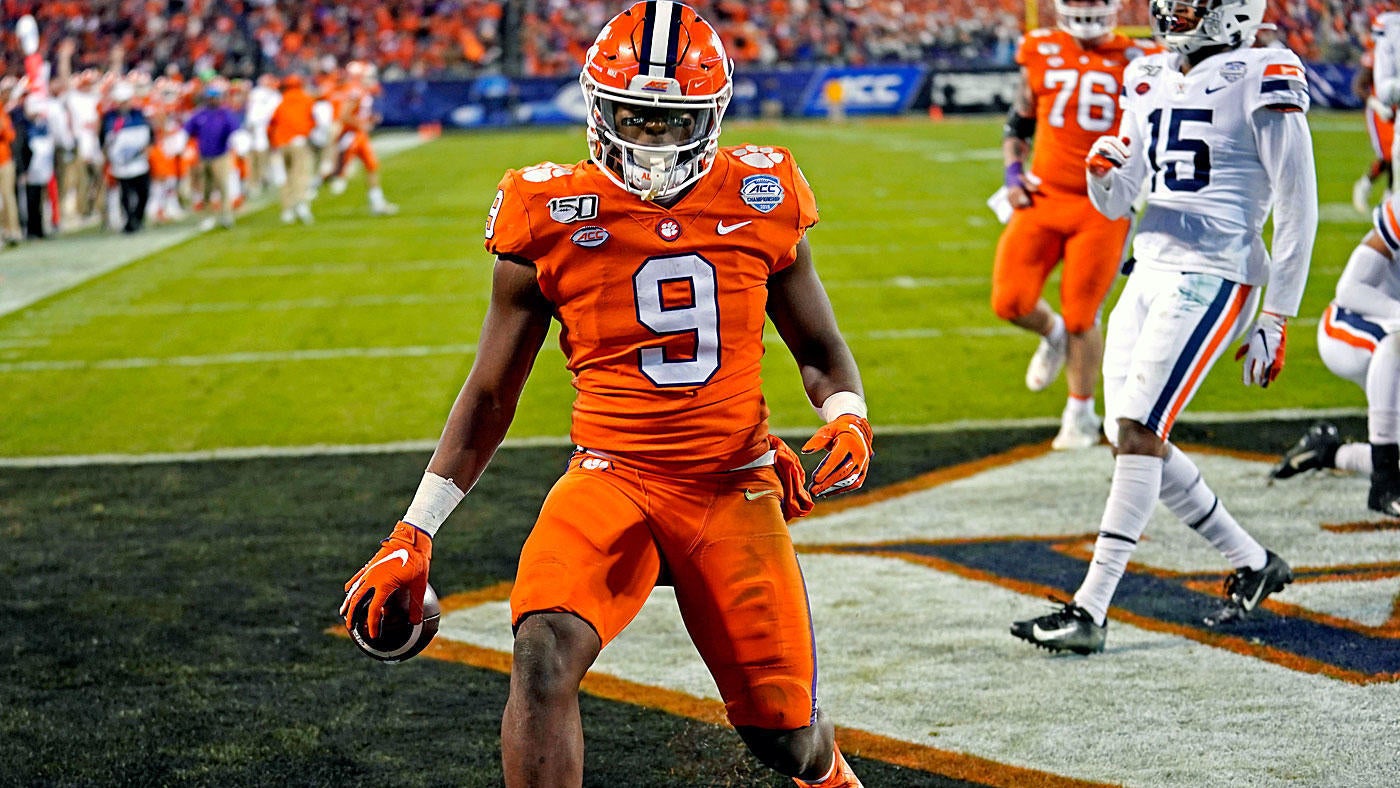 The Clemson Tigers made the Playoff because they are ACC Champions and undefeated.  They are also the defending champions, so they are already favored in discussions. Even though they haven't really played anybody great this season, they have won games.  If you go undefeated in college football, and you are in a power five conference or Notre Dame, you are going to have a shot at the crown.
Clemson's Weakness
Their weakness is their strength of schedule.  Their strength of schedule is ranked 33rd in the country, the other three teams in the Playoff are in the top 20 in strength of schedule.  In the final College Football Playoff rankings, nobody on Clemson's schedule is ranked. They have played good teams in Texas A&M and Virginia, who were both ranked when they faced off.  But Clemson has not had a major test yet, so the question that is being asked is, can they beat the good teams?
Under The Radar Player To Watch: Travis Etienne
Running back Travis Etienne does get more recognition than the other under the radar players that were named earlier.  That aside, Etienne has been very strong all season, and leads the country in yards per attempt, with 8.2 yards per carry.  Etienne has been very good as the season has gone on. In the month of November, he ran for 496 yards in four games, including a 114-yard performance in the ACC Championship game in early December.  Clemson will need to get Etienne going early, which can open up the passing game later on. His success will be crucial against the rough Ohio State defense.
Why Clemson Will Win
Clemson will win this game because of the talent on both sides of the ball.  The Tigers haven't played anybody, but there's no denying they are loaded with talent.  Trevor Lawrence, Tee Higgins, Justyn Ross, and Travis Etienne are all superstars on offense.  On top of the talent on offense, they have linebacker Isaiah Simmons, who leads the team with 93 tackles and six sacks.  They also have Tanner Muse, who is very underrated and leads the team with four interceptions. There are many more names but nobody can deny that this team is deep and experienced.  Most of these players played on the national championship team last year.
My Prediction
These are two legitimate and complete teams, probably the most complete in the country.  They have athletes on both sides of the ball who can affect the game in many different ways.  Both have championship-level offenses and defenses. This could go down to the wire, but Ohio State should be the team that will be able to pull away at the end like they have all year.  The major question is if Clemson can compete with these good teams. They have the talent, but they have not played anybody.
Ohio State has the edge over Clemson because they look stronger, and they have played good teams all season and passed every test.