25. UCF Knights (7-2)
UCF began this season going undefeated in back-to-back seasons. The expectation was to go undefeated again and finally be considered in the college football playoff, but they have not lived up to expectations this year. They are out of contention of the College Football Playoff and most likely out of contention of a New Year's Six bowl birth. Losing two close games to Cincinnati and Pitt took them right out of consideration. They are second in the AAC East behind Cincinnati and they need some help if they want to win the conference this year.
24. Navy Midshipmen (7-1)
Navy began the season with low expectations. They were projected to finish in fifth place in the AAC West. So far this year, they have only lost one game and have exceeded expectations. They sit on top of the AAC West ahead of Memphis, who is their only loss. They have some tough games ahead with SMU, Notre Dame and Army. If they can navigate through that and pull out wins, they could be looking at a surprise New Year's Six Bowl birth.
23. SMU Mustangs (8-1)
SMU is finally recovering from the death penalty they received back in 1987. They have been ranked as high as 14 this season. But, SMU lost a heartbreaker to Memphis on Saturday night, which hurt their ranking and place in the AAC West. As of right now, they sit in third place in the AAC West standings, but Navy has played one extra conference game which puts them in first place. SMU has looked very good with ex-Longhorn Shane Buchele this season and they should see themselves contending for that Group of Five New Year's Six Bowl birth and an AAC championship.
22. Wake Forest Demon Deacons (7-1)
Wake Forest has been impressive all season, only losing a shootout to Louisville 62-59. They are 7-1 for the first time since 2006 when they ended up losing in the Orange Bowl 24-13 to Louisville. Wake Forest has a huge test coming up against Clemson. We will find out very soon whether or not this team is real or pretenders.
21. Kansas State Wildcats (6-2)
Kansas State does have two losses this season. However, they did beat Oklahoma 2 weeks ago, which is a huge signature victory. They have lost to Oklahoma State and Baylor in back-to-back games by a significant amount. Kansas State does have an outside shot to make the Big 12 Championship. They still have to play Texas, West Virginia, Texas Tech, and Iowa State. If they can win out, they will have a shot at making the Big 12 Championship game, but they do need Oklahoma to slip up again.
20. Boise State Broncos (7-1)
Boise State has been solid this year posting a 7-1 record so far. Hank Bachmaier has been great for a true freshman quarterback. He has thrown for 1,760 yards with nine touchdowns and four interceptions in five games. They have not lost with him playing. The only game they have lost so far was at BYU, but it is always tough for any team to go into Provo and beat BYU.
19. Memphis Tigers (8-1)
Memphis has been solid this year led by freshman running back Kenneth Gainwell, who has had 1,067 rushing yards and 12 touchdowns up to this point. Memphis has beaten Ole Miss, Tulane, Navy and SMU which are all good wins. The only loss they have is a two-point loss away to Temple. They sit in second in the AAC only behind Navy, who has played one more conference game and won that game. But they have a real shot at a New Year's Six Bowl birth.
18. Iowa Hawkeyes (6-2)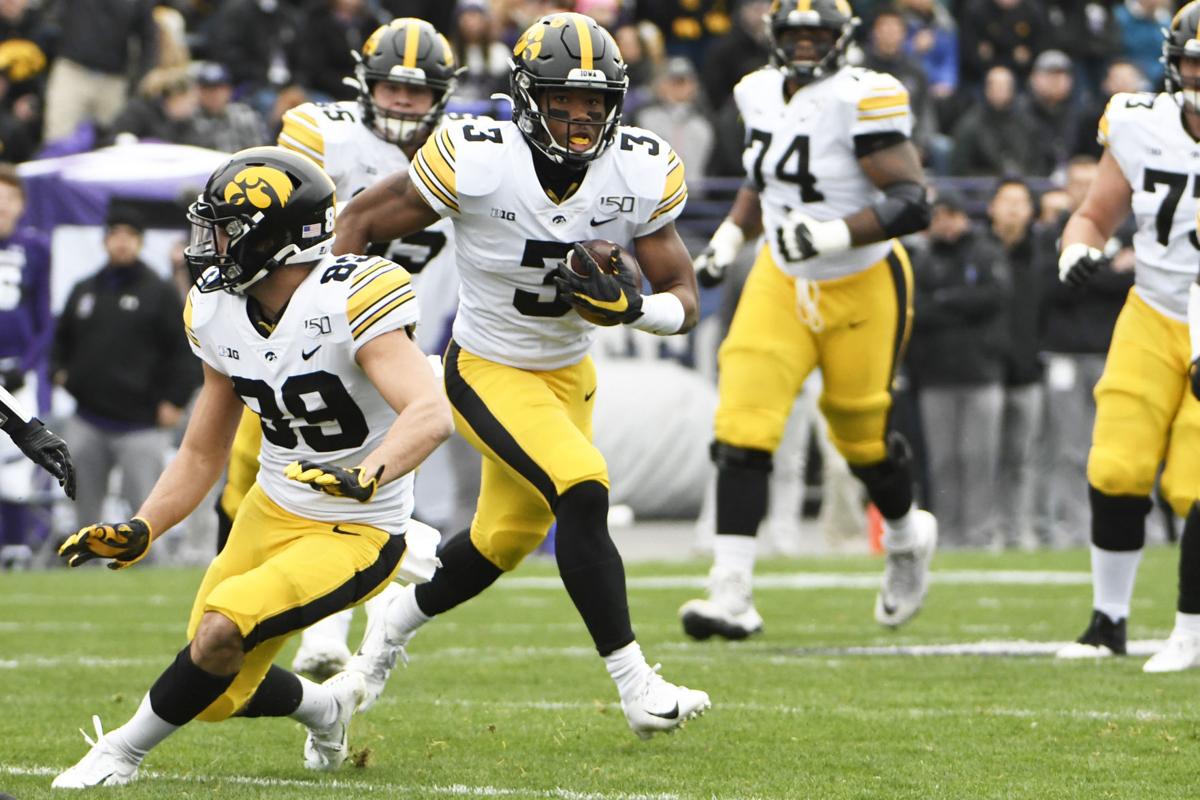 Iowa is very close to being undefeated this year only losing to Michigan 10-3 and Penn State 17-12. Senior quarterback Nate Stanley has been solid like he has been since his sophomore year. He has accounted for 1,950 yards, 10 touchdowns, and five interceptions. Iowa is two games back behind Minnesota, who are surprisingly 8-0 this season. Iowa may not be able to make it to the Big Ten championship at the end of the year, but they can make a bowl game.
17. Cincinnati Bearcats (7-1)
Cincinnati has been right at expectations this season. They were projected to be in the top three of the AAC and that is exactly where they are. Cincinnati has been strong with their only loss coming to Ohio State 42-0. They are on top of the AAC and are the only team left in the conference who are undefeated in conference play. They play UConn, USF, Temple, and Memphis the rest of the season who are a combined 19-15 through the season. If they can navigate through the rest of their schedule, they will be looking at a New Year's Six Bowl birth.
16. Wisconsin Badgers (6-2)
Wisconsin started out the season 6-0, but have lost their last two games. They lost to a 3-4 Illinois team by one and lost another game 38-7 to Ohio State. These two losses derailed their College Football Playoff run. Now instead of the playoff, Wisconsin is going to look for a New Year's Six Bowl bid and they need some help to make the Big Ten Championship game. If they want to make it there, Johnathan Taylor is going to need to continue his Heisman caliber season. He has run for 1,009 yards, with 15 touchdowns and has been the main reason for Wisconsin's success. They still have Iowa, Nebraska, Purdue, and Minnesota left to play. It will take an effort to charge up the rankings and finish the season with a New Year's Six Bowl bid and possibly a ride to Indianapolis to play in the Big Ten championship.
15. Notre Dame Fighting Irish (5-2)
Notre Dame began the year with national championship aspirations. That faded out quickly with a close defeat in Georgia and then an embarrassing defeat against Michigan. Notre Dame has been very underwhelming this season on both sides of the ball. The most that the Irish can achieve for the rest of this season is a New Year's Six bid. Which is not what Brian Kelly and his team envisioned for this season. They still have to play Duke, Navy, Boston College and Stanford. If they can win out, they will have a shot at a bigger bowl game. If they don't, Notre Dame will have had one of its most disappointing seasons in recent years.
14. Michigan Wolverines (6-2)
Michigan struggled to begin the year with close wins against Army and Iowa, and defeats to Wisconsin and Penn State. Since the blowout of Notre Dame two weeks ago, it looks like the country finally saw Michigan playing to its full potential. They still have to play a struggling Michigan State, a good Indiana team and Ohio State. The main reason for the Wolverines' success has been Don Brown's defense. Kwity Paye has been disruptive with 5.5 sacks this year and Khaleke Hudson has led the team in tackles with 77. The ceiling with this team is very high, but they need to win all the games they have left.
13. Auburn Tigers (7-2)
Auburn has been very good this year even with shaky quarterback play from freshman Bo Nix. Nix has thrown for 1,798 yards, with 12 touchdowns and six interceptions. The Tigers have not been great this year, but their two signature wins against Oregon and Texas A&M have helped them out tremendously. Also, they lost to LSU by only three points, which shows that they can compete with the big teams. This team has somehow found a way to win games, but can they win out and wreak havoc in the College Football Playoff? They can't get in, but they can hurt their biggest rival Alabama if they can pull out a win in the Iron Bowl.
12. Florida Gators (7-2)
The Gators have looked good this season but their campaign for the College Football Playoff ended with a loss to Georgia last week. The Gators were in control of the SEC East before the loss to Georgia, but now they are going to need help to make the SEC Championship game. The solid play of Junior quarterback Kyle Trask, who took the place of an injured Felipe Franks, has helped keep this team in the conversation for so long. But the loss to Georgia was detrimental to their hopes, which are basically gone now.
11. Baylor Bears (8-0)
The Baylor Bears are undefeated and they also play in the Big 12, but they have not played any great teams yet. They have not played one ranked team and they barely beat a 3-5 West Virginia team 17-14 last week. Baylor plays Oklahoma in two weeks so we will see how good this team really is when that time comes. But until then, it is hard to tell how legit they are.
10. Minnesota Golden Gophers (8-0)
The Golden Gophers have been turned around with P.J. Fleck as the head coach. Fleck took over in 2017 and changed the program. Minnesota is in the same position as Baylor, they haven't played a good team yet. They do play Penn State this weekend at home, so we will find out how good this team really is. If they can beat Penn State, Minnesota has a legit shot at making the College Football Playoff. Senior running back Rodney Smith has been very good out of the backfield. Racking up 889 yards, averaging 5.8 yards per carry and he has also found the endzone seven times. If Minnesota wants to win out, then Smith will be crucial to their success.
9. Oklahoma Sooners (7-1)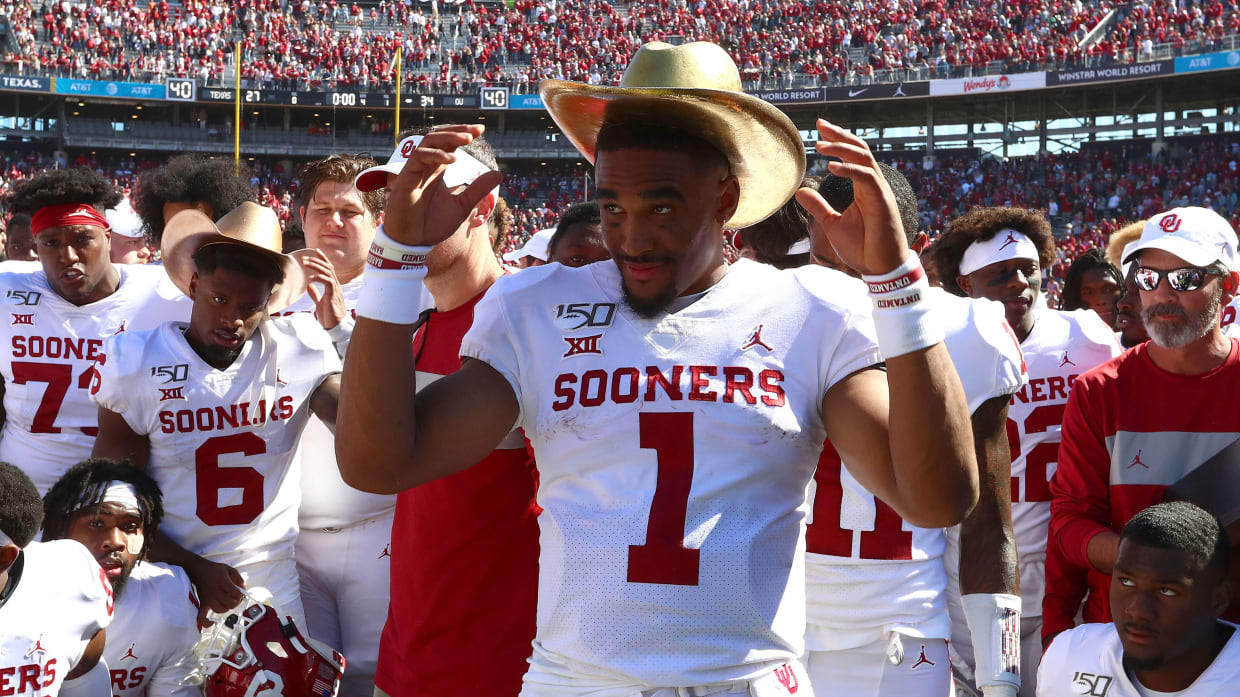 Oklahoma expects to make the College Football Playoff this season. But the loss to Kansas State threw a wrench in those expectations. They still have a great chance to make the playoffs, but they can not afford any more hiccups for the rest of the year. They still have to play Iowa State, Baylor, TCU, and Oklahoma State. All of these teams are either at .500 or over, so they will definitely be tested down the stretch. The X-factor for the Sooners is graduate transfer Jalen Hurts. He has been a Heisman frontrunner all season and if he keeps producing, it will be tough to beat the Sooners.
8. Utah Utes (8-1)
At the beginning of the season, Utah was a dark horse pick for the College Football Playoff. That is exactly what they have been up to this point. The only loss they suffered was a 23-20 defeat against a banged-up USC team. Other than that, they have won most of their games by a pretty good margin. They sit in first in the PAC-12 South and have a real shot at making the PAC-12 championship for a matchup with the Oregon Ducks. In order for the Utes to keep winning, the quarterback play of Tyler Huntley has to stay consistent. He has thrown for 2,062 yards with 11 touchdowns and only one interception. They still have to play UCLA, Arizona, and Colorado, which are all winnable games. As long as there are no slip-ups, they should have a shot at the playoffs come December.
7. Oregon Ducks (8-1)
Oregon's only defeat was in week one against the Auburn Tigers. Since then, they have looked very strong. The offense has been scoring with quarterback Justin Herbert leading them, and the defense has looked strong with Troy Dye and Jevon Holland. Barring a total collapse, they have almost locked up the PAC-12 North and they now have their sights set on the PAC-12 Championship and a possible College Football Playoff birth. They have Arizona, Arizona State, and Oregon State remaining. All of these are games the Ducks can win and don't be surprised if they are well in the conversation for the playoffs.
6. Georgia Bulldogs (7-1)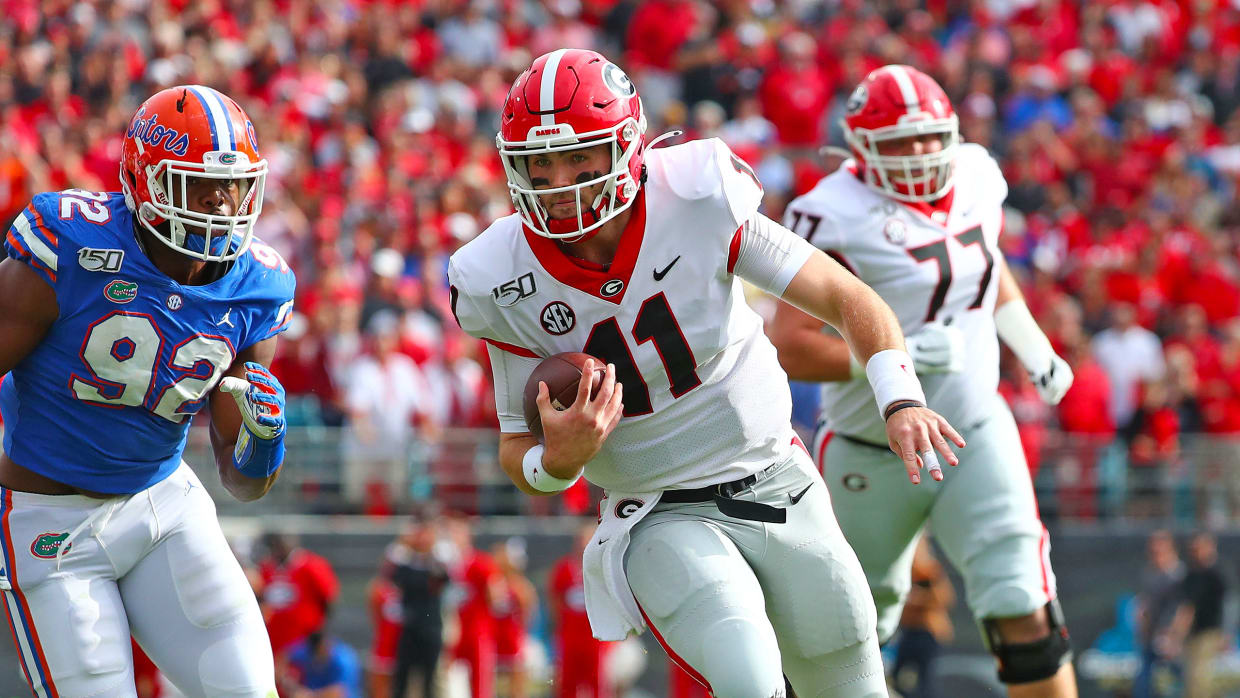 Georgia has been solid this season but has been shaky at times as well. They looked shaky in a close win over Notre Dame and in the only loss they have sustained against South Carolina. In recent weeks, Georgia has looked good, a strong win over Kentucky and a win over Florida have re-ignited their chase for an SEC Championship game appearance and a possible spot in the College Football Playoff. If the running game of D'Andre Swift, Brian Herrien, and Zamir White can stay consistent, then they will have a real shot at the playoff and a possible national championship.
5. Clemson Tigers (9-0)
The Clemson Tigers are undefeated and they won the national championship last year. But they have looked concerning so far this season. They snuck out of North Carolina with a one-point win earlier in the year and Trevor Lawrence has been underwhelming at times. Their best player on offense has been Travis Etienne, not Lawrence. Etienne has had 1,102 yards rushing yards, averaging an unbelievable nine yards per carry as well as 11 touchdowns. Clemson's biggest test other than the ACC Championship game is Wake Forest, and nobody really knows if they are legit or not.
4. Penn State Nittany Lions (8-0)
Penn State has looked very good this season and now they are looking up towards a Big 10 Championship game appearance and a possible College Football Playoff bid. They have been lead by an offense the connection of Sean Clifford and K.J. Hamler. The two have hooked up for 620 yards and eight touchdowns. The Nittany Lions travel up to Minnesota this week, which will be a big test for them but it will not be the last. They still have to go to Columbus to play Ohio State on November 23rd. If they want a shot at the playoff, they need to win out as well as winning the Big 10 Championship game.
3. Ohio State Buckeyes (8-0)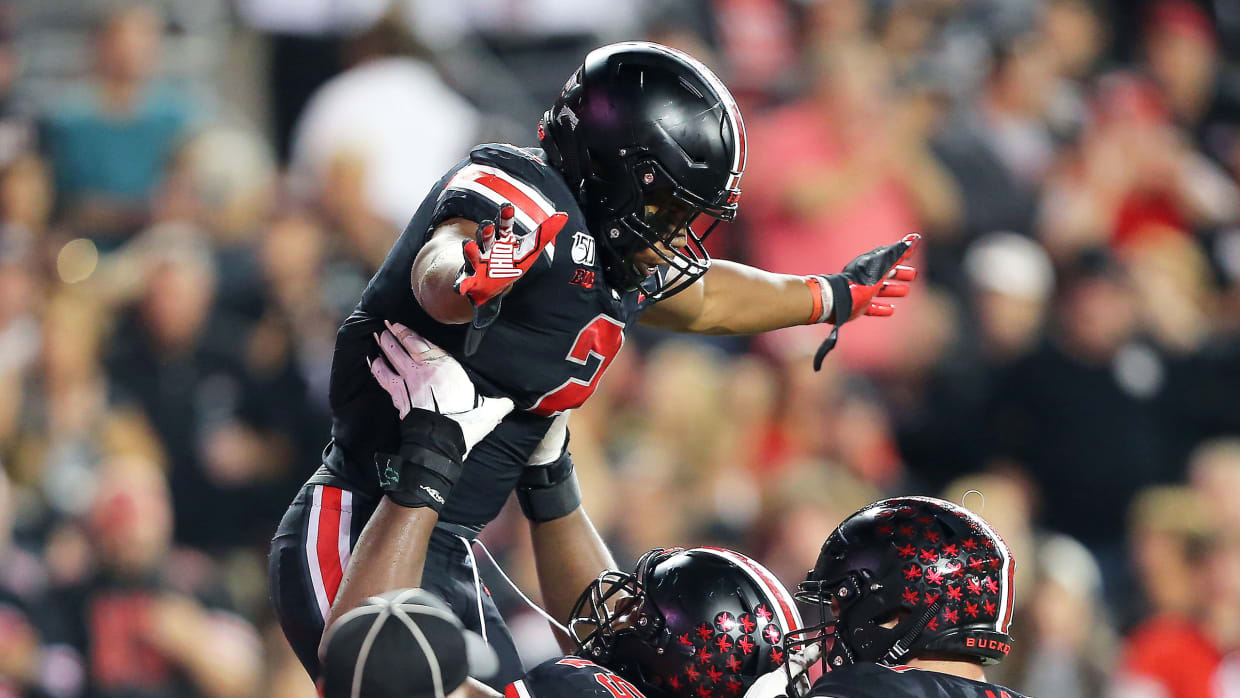 Ohio State has won every game this season and none of those games have been close at all. The closest win they have had was a 34-10 win over Michigan State. Justin Fields has been great this year throwing for 1,659 yards with 24 touchdowns and only one interception. Also, running back J.K. Dobbins has also been great this year, running for 1,110 yards with 9 touchdowns as well. Also Chase Young has been a beast for the defense. He has had 13.5 sacks already this year and looks like a rare Heisman frontrunner on defense. This team looks great and anything other than a College Football Playoff appearance would be a disappointment.
2. Alabama Crimson Tide (8-0)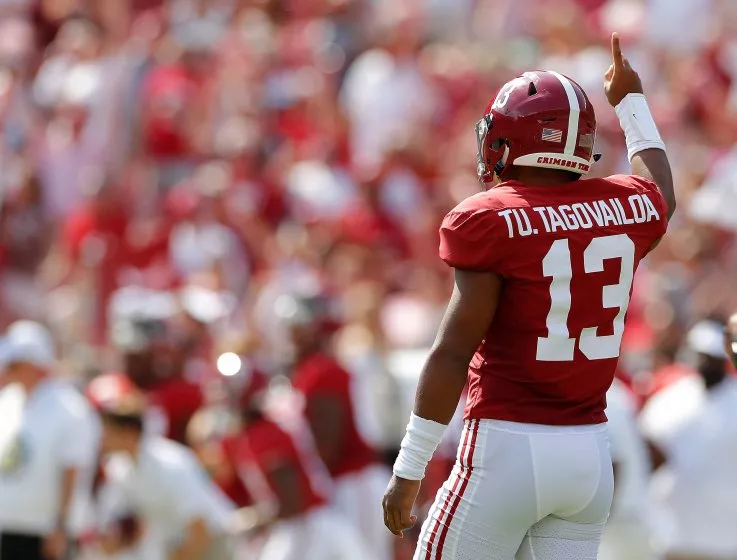 It has been business as usual for the Crimson Tide this season. They are undefeated and this team is primed for a title run. The only team standing in their way is LSU. They play them this Saturday in one of the biggest games in this rivalry's history. None of their games have been close either, with their lowest margin of victory was a 47-28 victory over Texas A&M. The only worry is Tua Tagovailoa's health. He suffered a high ankle sprain against Tennessee and his availability is up in the air for the LSU game.
1. LSU Tigers (8-0)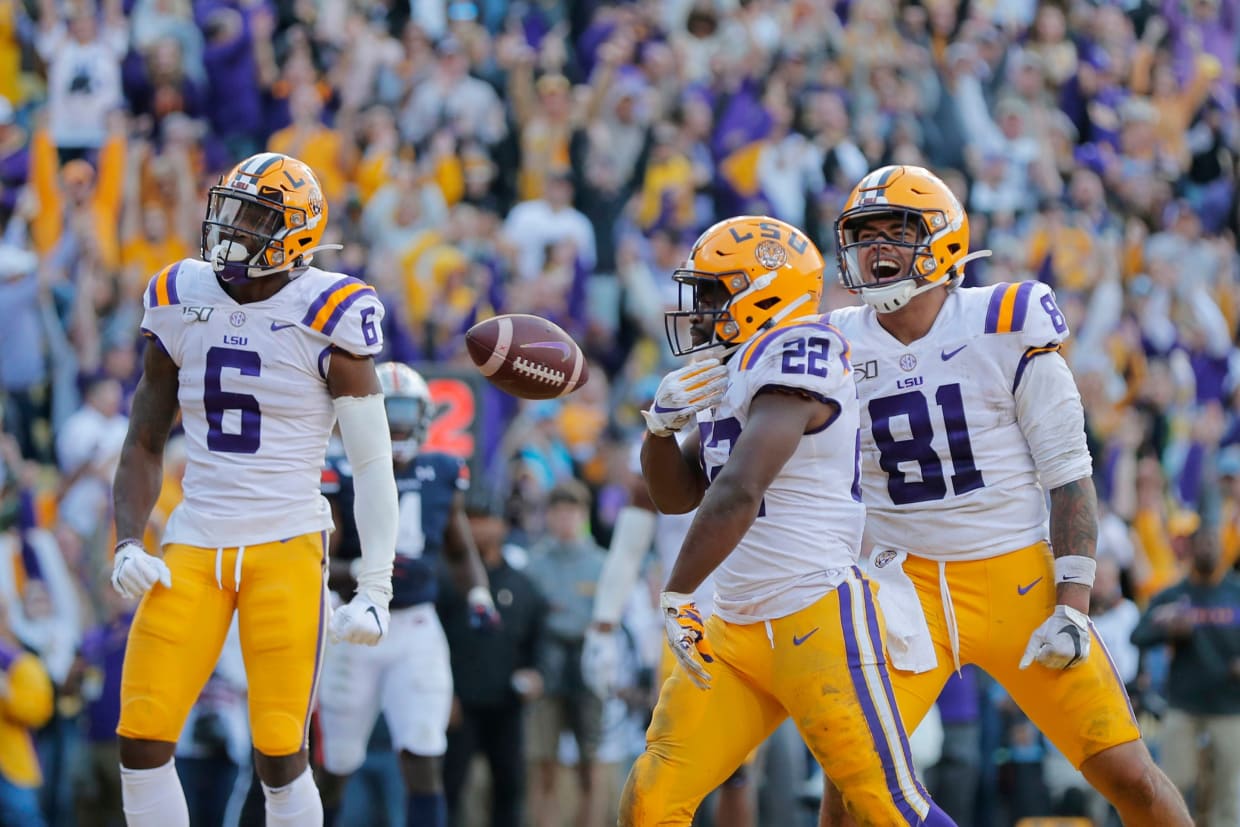 LSU has been great this year. Joe Burrow is putting together a strong case for the Heisman trophy. He has thrown for 2,805 yards with 30 touchdowns and only four interceptions. LSU is first in the country because they have played strong teams where other teams have not. They have played Texas in Austin which is no cakewalk, Florida and Auburn already this year. They have looked strong in all those signature wins and that gives them a leg up on other teams who are undefeated but have not played anyone to this point.