After about a month of spring training, we're just one week away from Opening Day. There are only four games of spring training left for the Red Sox, and they sit at fourth in the grapefruit league with a record of 13-10. Now, I'm aware that spring training doesn't exactly depict what the season will look like, but I think it's fair to say the Sox had a pretty good spring training. And there are some solid points from during the season that gives something to look forward to.
Bobby Dalbec, 1B
ST Stats: 42 AB, .310 BA, .857 SLG, 1.253 OPS (3rd), 7 HR (1st), 14 RBI (T-3rd)
Bobby Dalbec came into the league in his rookie season last year hitting bombs. In case you don't remember, he belted a home run in his debut. Then, he went on to tie a rookie season record of consecutive games with a home run hit with five games in a row (7-18 with 7 RBI in that stretch). Although his first 23 games looked mostly impressive, he struggled with his strikeout numbers which continued in spring training. In his 80 AB last season, he was punched out 39 times… yikes.
This trend is leaning towards being around the same with little improvement for the upcoming season. He has 18 strikeouts in his 42 AB this spring training. But in this day and age in the MLB, we've seen more and more "home run or bust" type players. So, it's not such a bad thing. He is having an awesome spring and already showing a lot of improvement. If he keeps the strikeouts down a little and focuses on getting on base more, he could be the x-factor for Boston this season.
Here's a look at Bobby Dalbec's no-doubt grand slam. pic.twitter.com/5gLomgsv4d

— MLB Pipeline (@MLBPipeline) March 17, 2021
Bullpen
Garrett Whitlock
Adam Ottovino
Matt Barnes
The bullpen is shaping out to be MUCH better than it was in the past couple of years. A ton of games weighed upon the shoulders of the bullpen these past two years, and they blew a lot of those games. In 2019, the Red Sox blew 31 saves. Last season, in only 60 games, they blew 13 saves. This season they are going in with a lot more depth and reliable arms coming out of the pen. Barnes, Whitlock, and Ottovino have looked great in spring training, and it would be huge if they came into the season firing. The Red Sox were able to snag Whitlock from the Rule 5 draft and to his surprise, he ended up making the 26-man roster to start the 2021 season.
"His reaction was priceless. It's all about him. The organization did their homework and we decided to draft him. From there on, it was up to him and he did everything possible to make the team. I know he's not going to stop trying to get better, studying the game and doing all the right things to get to the next level." -Alex Cora
Garrett Whitlock's 5Ks in 2 IP. pic.twitter.com/OJFkAoxShM

— Rob Friedman (@PitchingNinja) March 19, 2021
Boston also signed 32-year-old reliever Hirokazu Sawamura from Japan, who reminds me a lot of a certain closer the Red Sox had during their 2013 World Series run.
Sawamura's control has been questionable this spring, but he did join the team a little late. In 22 games in the JPPL, he threw 21 IP with 29 K and a 1.71 ERA. Darwinson Hernandez is another name that will look to make an impact for Boston out of the bullpen. He has looked good this spring and can be a strong mid-late reliever.
Enrique "Kiké" Hernandez, UTIL
ST Stats: 39 AB, .308 BA, .449 OBP (3rd), .936 OPS, 4 2B
This was a great pickup for the Red Sox in the offseason. Before the signing and even a little after, there was still no certainty about who was going to be starting at a few positions. But I think it is safe to say Hernandez will be playing pretty much every day, whether it be second base or in the outfield.
Kike Hernandez with the textbook janitor throw ☄️ pic.twitter.com/66ng4yKMXH

— Danny Vietti (@DannyVietti) March 14, 2021
The positions of LF, RF, and 2B are still question marks and will probably be switched around on a daily basis by Alex Cora. The following players will be rotating in and out all season and have looked good so far in spring training:
Franchy Cordero
Marwin Gonzalez
Hunter Renfroe
Michael Chavis
and maybe Christian Arroyo
Kiké is not only a good player and performing well in spring training, he is an awesome clubhouse guy. He is always having fun and seems to have a ton of chemistry with the team already. He will be a very solid hitter in either that one or two spot in the lineup, especially if he keeps up his awesome on-base percentage from spring training.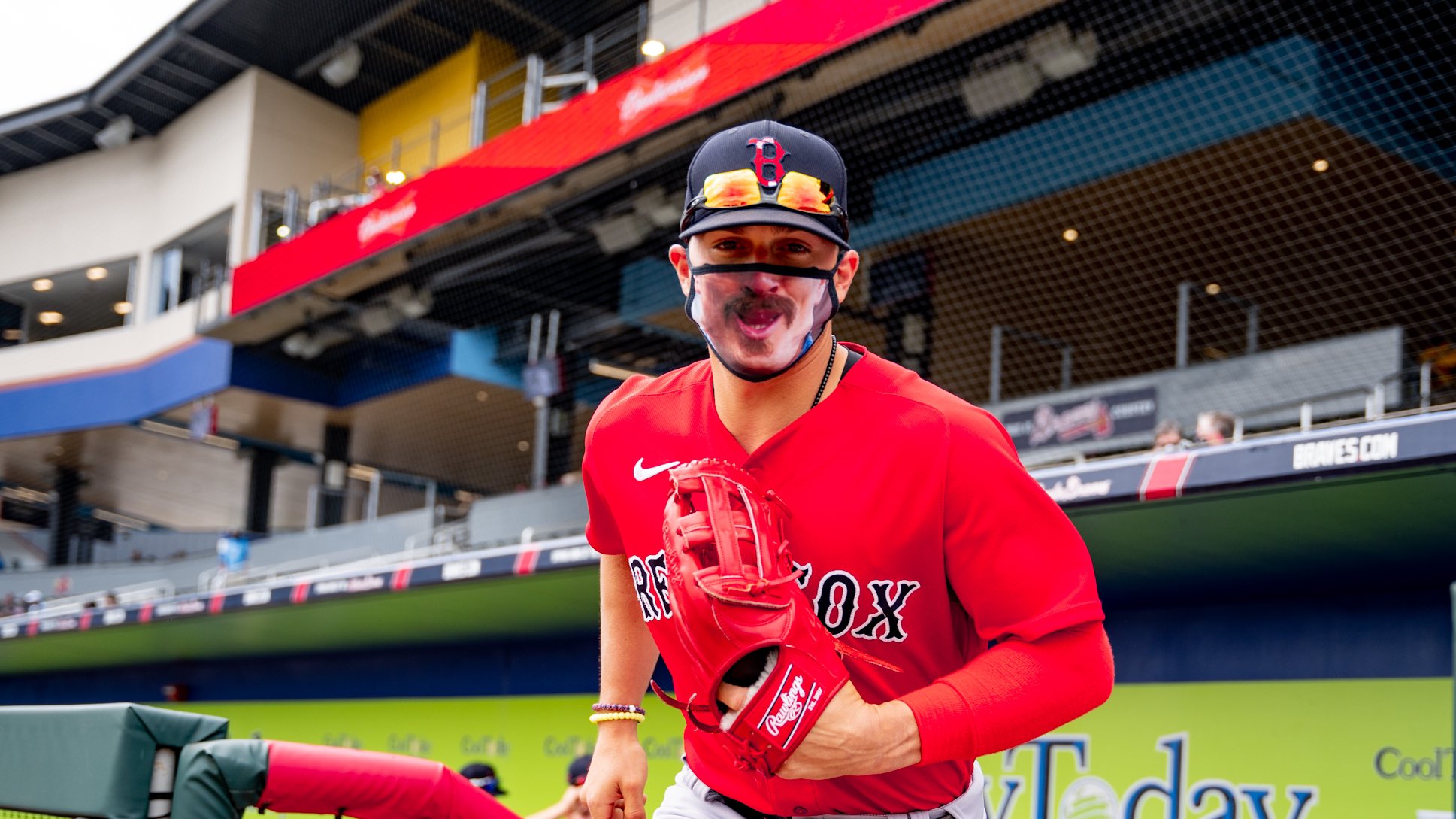 The AL East is arguably the best division in baseball right now, and it will be competitive. Another important element for Boston will be the performances of Xander Bogaerts, Rafael Devers, J.D. Martinez, and Alex Verdugo. These four will be looked at to carry the load on offense.
And of course, the starting pitching will need to perform, stay consistent, and stay healthy. Eduardo Rodriguez was already scratched as the Opening Day starter for dead arm after missing last season. And Chris Sale's timetable for return is still up in the air, but the Red Sox say the goal is to get him back at some point during the season.
The Red Sox will face the Orioles at Fenway Park on Thursday, April 1 at 2:10 p.m.